Find Alternatives To Android & iOS Apps On Windows Store With AppSwitch
It has been a while now since the launch of Windows 8 and as expected, a lot of fresh apps Modern UI apps have started to make their way to the Windows 8 ecosystem. Although the overall library doesn't yet offer as many options as Google Play Store and Apple App Store, it's clear that the ecosystem is growing at an impressive speed. With such a wide range of choices though, finding the perfect replacements for your iOS or Android devices on Windows Store might not be too easy. Worry not though – AppSwitch for Windows 8 aims to come to the rescue. The app suggests you perfect or very close matches on Windows Store for popular Android and iOS apps, such as eBay, Facebook or Flipboard, to make it easy for you to find the right apps on the platform. Even when it doesn't find a decent match, it suggests a similar application relating to the same category as the next best alternative.
When you first launch the app, its intuitive interface instantly presents you with some popular Windows Store apps under featured, latest, popular, top rated and favorites sections. While it seems fairly impressive, the results shown on the main screen can be quite random; an app that you found under featured or another app group may not be there the next time you launch AppSwitcher. However, you can click or tap 'see more' below any section to check out all the apps available under it.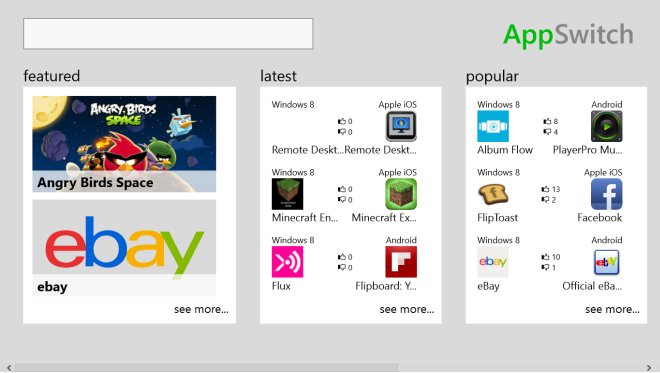 The 'latest' section constantly updates itself with new apps. The apps list itself appears in a tiled manner to present you with a significant number of matched app pairs. In certain cases, a single app can match multiple apps on other platform. For instance, Flux can be taken as alternative to Flipboard as well as Google Reader; thus, AppSwitch pairs it with both of them as a match.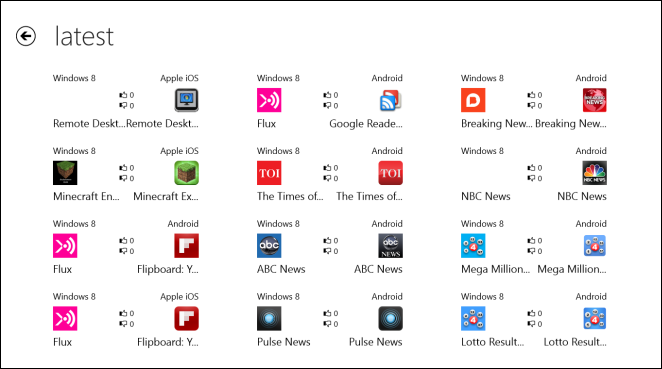 Clicking or tapping an app takes you to its page that contains screenshots, reviews and a mini description. Here, you may choose to like or dislike the app, add it to your wish list by clicking 'save for later', view other matches for the app, or hit 'download' to jump over to its Windows Store page for installation.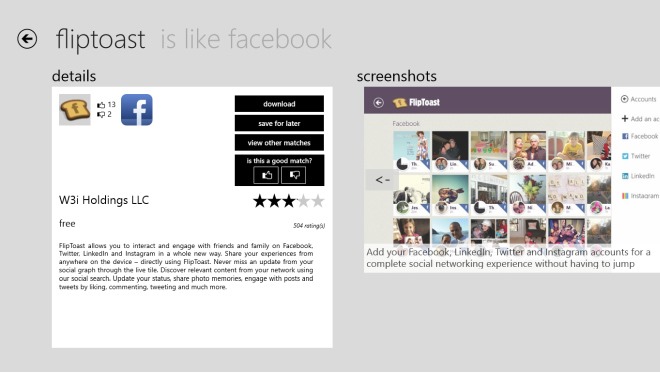 By default, AppSwitch shows you matches for both iOS and Android apps but if you are coming from one of these platforms only, you can always toggle the other platform off from the Settings bar. To access this menu, click Settings, followed by Settings again in the Charms Bar.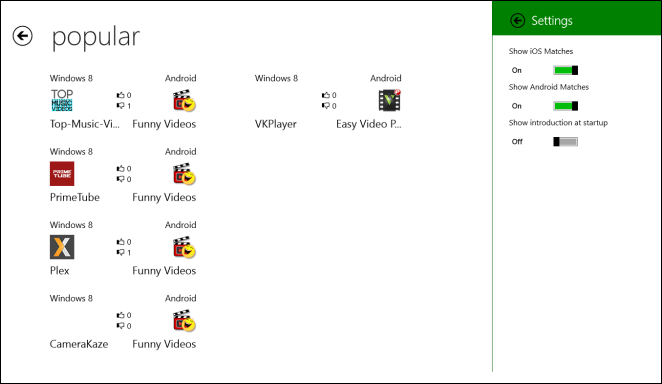 The app's UI as well as its own suggestions of matched app pairs is great, but one major shortcoming that shouldn't have been overlooked is the lack of support for doing a manual search for your desired app. While the interface to search is there via the Search Charm, you always get the "No search results found" message each time you try to search for an app. We hope the developer addresses this issue in the next update, it is severely limiting the app's utility as a quick way to find suitable alternatives for apps we already know about.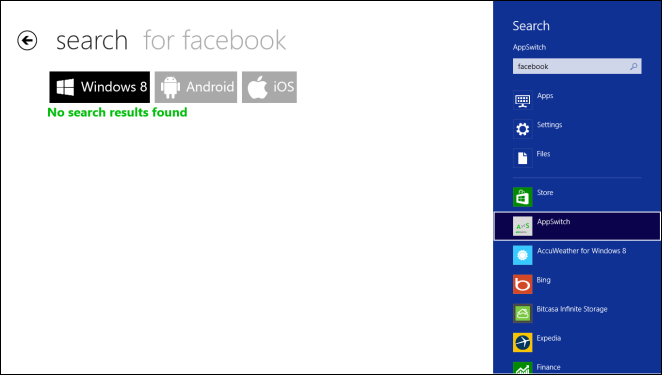 Regardless of this shortcoming, AppSwitch can still be handy if you don't mind going through its own suggested matched app pairs for your app discovery on the platform. AppSwitch works on both Windows 8 and Windows RT.