Find And Connect To The Best Wifi HotSpots Around You
WeFi is a free windows application that lets you find the best wifi hotspots anywhere around the world. Suppose you are sitting in a cafe and multiple wifi networks are detected, which one will you connect to? WeFi lets you determine which network is the best and automatically connects to it. And once connected, you can find other users using WeFi around you instantly(which requires a free registration).
All you have to do is run the app and it will connect you automatically, saving you the headache of finding, connecting, and testing every wireless network manually.  I have a wireless network at home called "Nakodari Wireless", as you can see from the screenshot below I got connected instantly.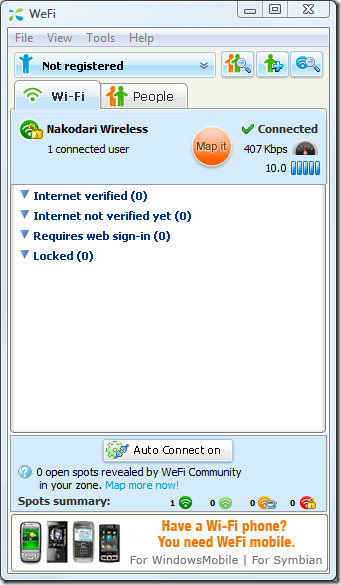 The number of users connected to the wireless network is shown below the name. On the right side you will find the status, speed and an option to map it. Once you find this network and map it, it becomes easier for other users to find it too. You can become a part of the WeFi community and help each other find the best networks available.
Some top features include:
Find Wi-Fi hotspots around the globe
Automatically connect to the best Wi-Fi location around you
Be a part of a community that builds an open global Wi-Fi network
Have more fun using our chat and find friends
Enjoy!