Find And Display The Last Changed Files On Your Computer
Last Changed Files is a free utility that displays 100 recently changed files on your hard disk. It can also find the change inside multiple sub directories. It can come really useful if you are away from your computer for a while and want to see if someone deleted or moved any files from your computer, and also when you have forgotten where you moved your last file or which file you deleted the last time.
Once you run this program, it will automatically run a scan and display the last 100 recently changed files instantly. Note that the files shown in the beginning are not the recently changed files, let the scan complete and then browse the list.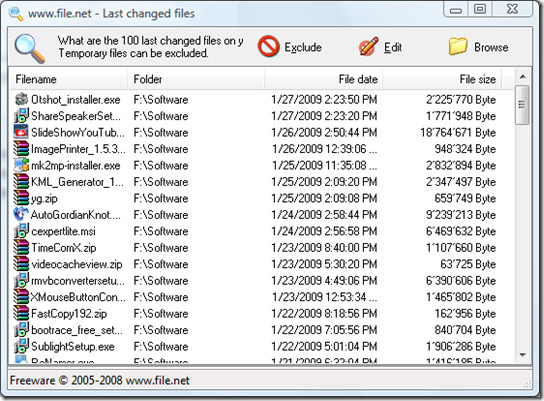 The results came surprisingly accurate when I searched for recently changed files in my Software folder. It displays all results in the order of change, so the top file in the list is the one that was recently changed. You can see the date/time next to the filename which tells when the specific file was changed.
To browse any folder or drive, click Browse button on top-right side and select the destination you would like to check for changes. To exclude some files, click Edit button and add the path there. This tool is a standalone program(no installation required) and does not write anything to the registry. Enjoy!