Easily Find & Delete All Files With A Particular Extension
Finding files of a particular type in order to get rid of them can become overbearing at times, especially if the location you're looking through has become flooded with an umpteen number of files. The default download directory for instance, often becomes a victim of this issue, as we keep filling it with random files, leaving everything disorganized and cluttered. Now, you could always right-click anywhere within the folder and sort files according to type to make the required extension easier to spot, but sometimes, even that doesn't cut it. This is where Daanav File Manager comes to the rescue. This lightweight Windows freeware scans any selected folder (and its subfolders), and lists the file extensions within it along with the file count of each. This way, you can easily locate and delete all files with a particular extension in bulk. Further details past the break.
The application comprises a simple yet effective interface. Upon launch, it automatically displays the "Browse for Folder" window to instantly select a directory. You can always reopen this window by hitting the browse button beside the "Folder" field.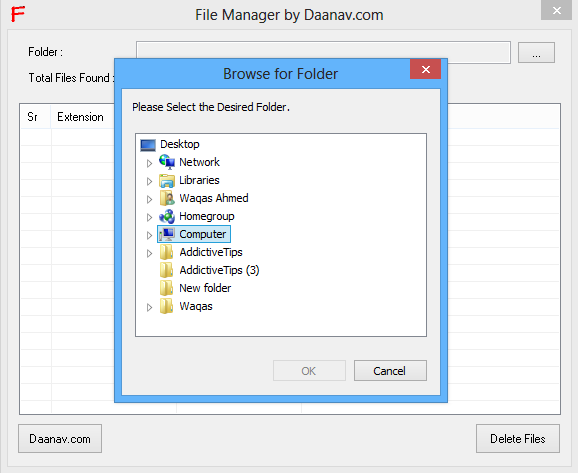 Once the application finishes the scan process, it lists down all the file extensions within the directory, along with the total number of files under each extension.
To delete all files with one of the detected extensions, select the required file extension from the list and click the Delete Files button on the lower-right of the window. You can highlight multiple items at a time well for batch deletion of extensions. Files are not permanently deleted, but rather moved to the Recycle Bin. So you may easily restore accidentally deleted file extensions.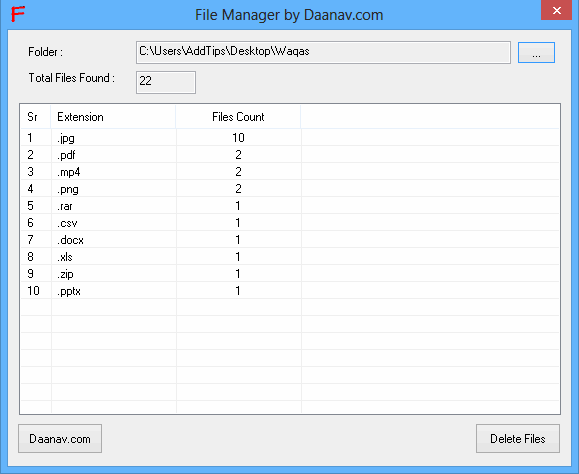 The application isn't exactly one that you'll need to use on a daily basis, but it can prove to be quite handy whenever you're looking to reduce the clutter on your system. It works as intended, but it does have quite a bit of room for improvement. For instance, it would've been better if the user could choose to view file names as well, and exclude certain files where needed.
The application works on Windows XP, Windows Vista, Windows 7 and Windows 8.