Find Files And Folders That Take Up Most Space In Your Hard Disk
To free up some hard disk space you need to delete the files and folders that take up most space. But how would you find such files and folders? Since there is no build-in tool in Windows, the only way is to manually check the properties of every file and folder. This process is obviously very tiresome. We reviewed a software last year called JDiskReport that lets you analyze the hard disk space, but the downside is that it requires java runtime and is also not portable.
SpaceSniffer is a recently launched free portable tool for Windows that analyzes your hard disk and loads a visual map which shows the files and folder structured in your hard disk along with the space they are taking. Just run the tool(no installation required), select the drive or path that you want to analyze, and click Start.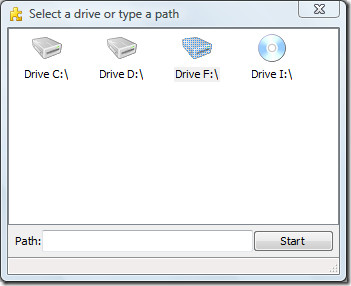 Once it begins analyzing the drive or path, you can sit back and wait. The time it takes to complete the visual map would depend on the speed of your hard drive and the number of files in the drive or path.
Unlike other tools, this one is dead-simple to use. Everything is displayed in the visual map, double-clicking any folder will show you further content inside that folder. You can always navigate back and forth with the buttons given on top. After you have made any changes to a file or folder, click Refresh and it will load the visual map again.
You can view less details or more details of the drive or path by clicking their respective buttons. Below is an example of the my drive under maximum details.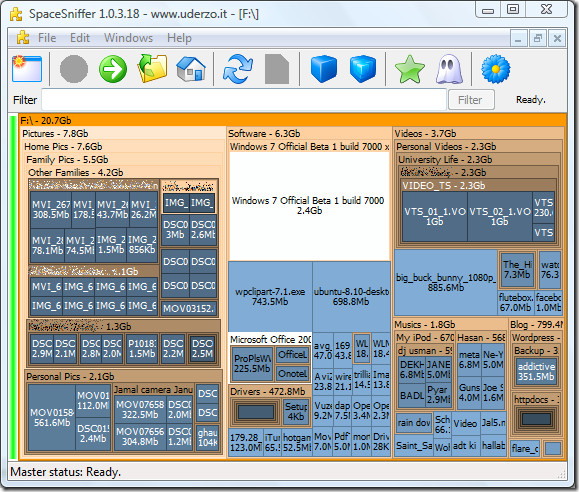 You can also view the free and unallocated space by clicking their buttons respectively. All buttons are given in the toolbar on top.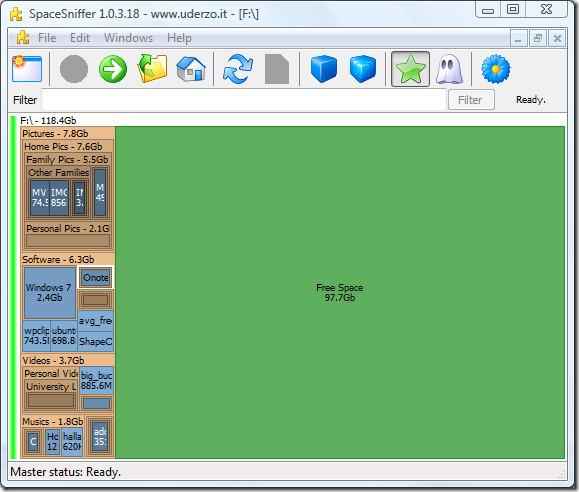 Obviously you cannot see the content properly in because I have reduced the size of the application so that the screenshot can fit in this post. This tool is best used Maximized, so that all files and folders become clearly visible. If you are looking for a file with a specific format then filtering will help. You can also filter on file size and combine all filters (example: *.exe;>2mb;<4months). Enjoy!