Find Great Movies To Watch With MovieNight For Windows 8 And RT
Whenever someone else suggests a new movie, a lot of us check out its rating, cast and plot on the Internet before buying or renting it. You must be familiar with IMDb and Rotten Tomatoes as two of the most famous online databases used by people to look up information on movies, celebrities, TV shows etc. Based on your experience, you might have your own preferences among these sources; however, there is no doubt that both these services provide great analysis. Today, we have an app for Windows 8 called MovieNight that allows you to view movie ratings, look it up on Netflix, and buy it on Amazon, all from its Modern UI interface. In addition, you can see lists and details of the overall top movies, latest DVD releases, top rentals and movies up in theaters right now.
Whenever you start the app, its main interface displays the Top Instant section of the app by default. Here, you can see a list of the top movies according to their ratings on Rotten Tomatoes. Other than the Rotten Tomatoes score, it displays the Run time, Year of release, MPAA Rating, Cast and Synopsis of the movie. You can scroll through the list of movies by using the scroll wheel of your mouse, or swipe gestures on your tablet.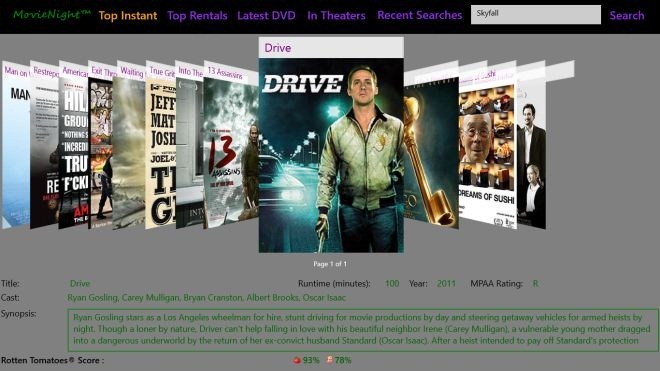 From the top, you can switch between different movie lists, namely Top Instant, Top Rentals, Latest DVD, In Theaters and Recent Searches. Double-clicking a movie poster will instantly open its Rotten Tomatoes page, allowing you to view its Tomatometer and Audience Rating, read its info, check out the cast, see comments left by others etc. You can also open the Netflix and Amazon pages for the movie.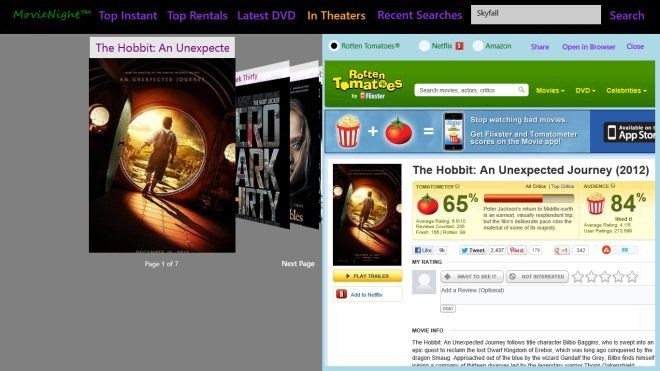 If you are looking to rent a movie or buy its DVD, the app allows you to do so directly from Amazon; just double click its title and switch to the Amazon tab from the right, where you can rent or buy it using your Amazon account.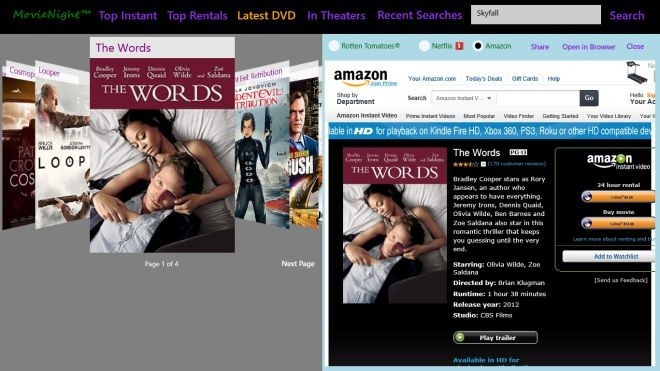 The database can be searched by using the search field available at the top right side. It will display all the movies related to your query, and shows all the relevant information for each of them.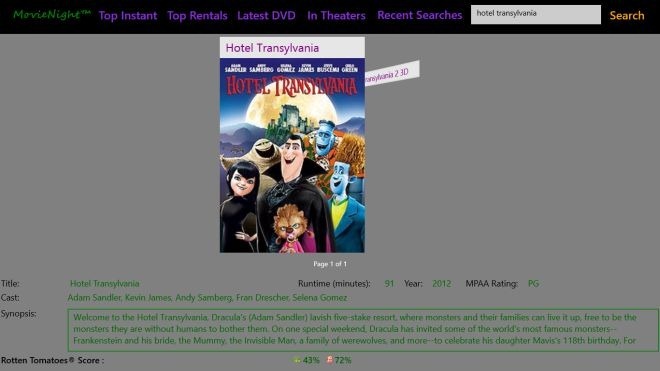 Right-clicking in the app (or swiping upwards) brings up the app bar, which allows you to enable or disable web view, cover view & details, and clear the app's cache.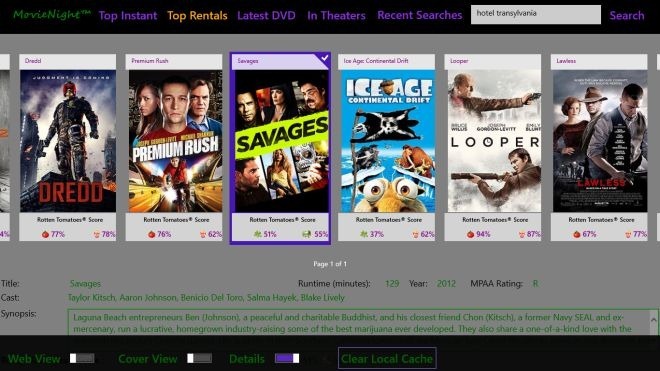 MovieNight works on both 32-bit and 64-bit versions of Windows 8.
Get MovieNight from Windows Store