Find Out The Cause For Crashed Windows Programs With WinCrashReport
When a Windows application crashes and displays the crash module, you are able to view some of the details for the causes of the crash on the crash dialog box. However, this information is often inadequate and quite confusing. WinCrashReport is a portable application by Nirsoft which unlike the Microsoft crash reporting module, provides you with a more convenient reporting format. The crash report can also be saved in text or HTML format for later review. This functionality is quite similar to another previously reviewed Nirsoft application known as WhatIsHang. While WhatISHang was designed to inform users about hanged applications, WinCrashReport provides information about crashed programs.
Just launch WinCrashReport anytime an application crashes, to be able to view the detailed report regarding the cause for the crash. It must be noted that WinCrashReport does not replace Microsoft's crash module and requires being instantly launched when the crash dialog box appears. The report displays information, such as, the date and time of the report, path of the crashed application, process and thread ID, exception code, exception description, crash cause, exception parameters, etc.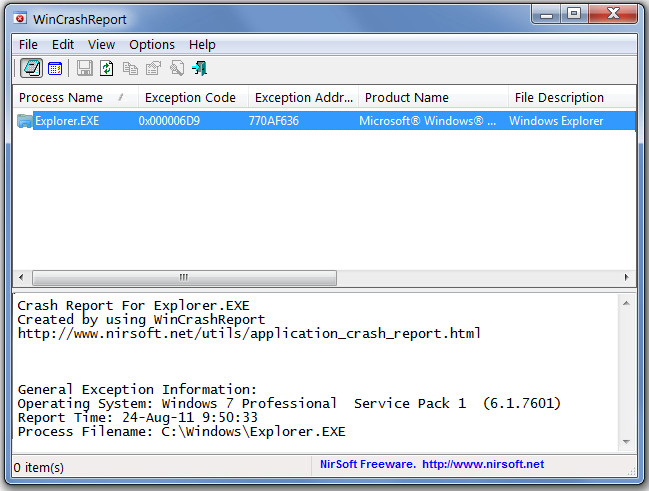 Despite being a useful crash reporting application, WinCrashReport has a downside, i.e. it has to be manually launched when an application crashes and does not provide information if you launch it after the crash dialog has been closed. This application behavior is similar to WhatIsHang and causes a lot of inconvenience for the end user.  The developer has expressed his optimism that he might be able to replace Microsoft's crash reporting module to get rid of this annoyance for future versions of WinCrashReport. WinCrashReport works on Windows XP, Windows Vista, Windows 7, Windows Server 2003 and Windows Server 2008.