Find Out What Has Changed In Your Windows Registry Or Hard Drive
Many software leave their traces in the Windows registry even through you have properly uninstalled them. When your registry is full of such traces(junk keys), your Windows performance is effected. Wouldn't it be great if you could see what has changed in your registry and then take proper measures to remove the junk keys?
Back in February, I mentioned few ways to reinstall trial software when trial period has expired. One reason the trial software cannot be reinstalled is because during the reinstallation process it detects the previous key from Windows registry and deny another installation. Wouldn't it be great if you could see which key was added in the registry and then remove it more easily?
Many tools have been reviewed before at AddictiveTips that lets you check the changes in registry and hard disk, but recently I have found a much simpler tool. WhatChanged is a tiny portable utility for Windows that lets you check for modified files and registry entries by taking snapshot and then later comparing it with the original snapshot. The whole procedure takes a total of two steps only.
First of all select the items that you would like to scan, files or registry. You can select the drives in which you would like to scan for modified files or select the main registry keys where you would to search for modified keys, you can also select both. When done, click Snapshot(Step 1).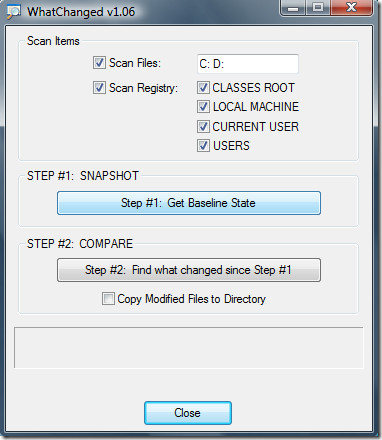 It will take some time to scan all your files and registry, the time would depend on the number of drives and the registry keys you have selected. Once the process is complete, it will show you the saved list, click OK.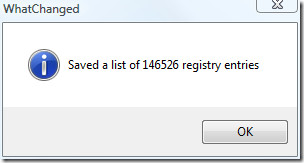 Now when you need to find for modified files or registry, simply hit Compare(Step 2). If Copy Modified Files To Directory option is enabled, then you will be able to save the modified files to any defined directory.
Overall, it is quite a handy tool that lets you check for modified files and registry instantly without any clutter. It works on all versions of Windows.
For more, also check out TinyTask, which is a small screencast tool from the same developer. Enjoy!