How to find the right Windows 10 PC with the Microsoft Choose a Computer tool
PCs are not replaced often. They're not a small purchase and unless you're an avid gamer, you will likely keep the laptop or PC you've bought for more than two years. The only real problem with buying a PC is that there are so many models to choose from. Unlike the Mac lineup which is all from one company, PCs are manufactured by lots of different companies for all sorts of uses; home, school, work, and gaming. If you've settled on using Windows 10 as the OS on your desktop, you can find the right Windows 10 PC with the Microsoft Choose a Computer tool.
The Choose a Computer tool is basically a tool that offers you up some basic selections for a PC including some must-haves e.g., a USB C port. It then finds the devices that match your selections. Here's how it works.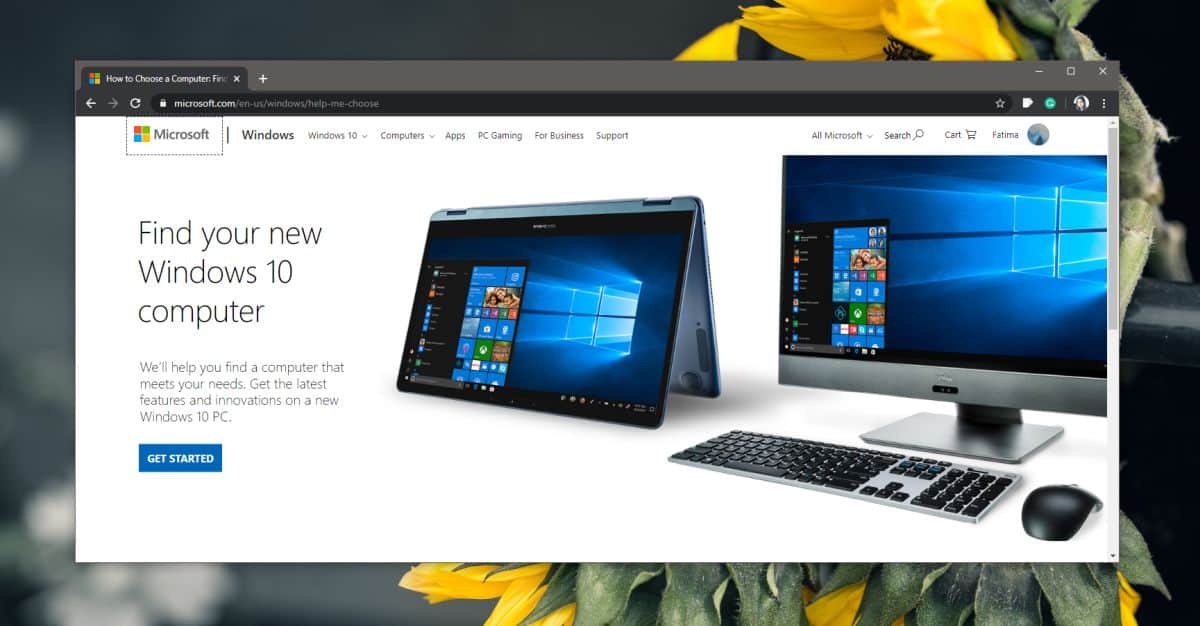 Microsoft Choose a Computer tool
Visit the tool and pick the main use you intend to get out of the system. You have four basic options; home, work, school, and gaming. We should mention that at no point does the tool ask you for a budget and this initial selection is going to play somewhat of a role in setting the price for the systems that are suggested. Gaming systems cost more, and Home systems not as much. If you select 'For Work' the tool is going to give preference to a system that comes with a Windows 10 Pro license but if it can't find anything that matches your other selections, it will suggest systems that have a different Windows 10 edition, or that do not come with an OS installed.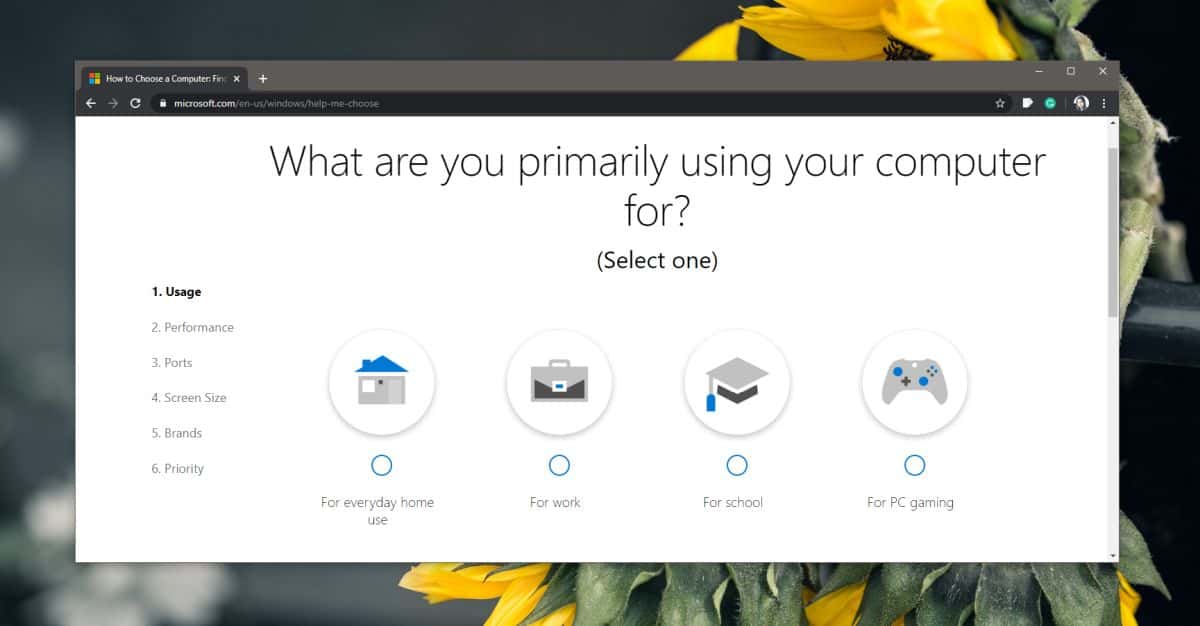 The other selections you can make as you go through the tool are 'Performance' where you have to pick three essential tasks you'll be using the PC for. It's a good idea to look at what the features actually do and how they may impact the price point of the suggested devices if you're on a strict budget.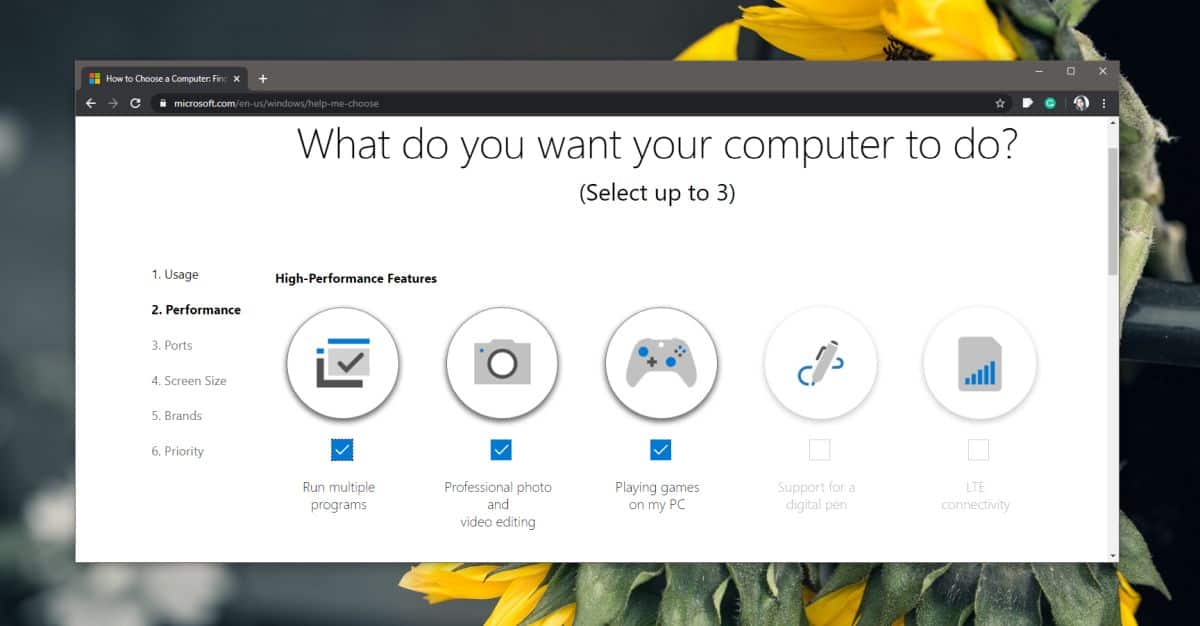 After that, you will select which essential ports you need, the size of the screen that you want, and which brands you prefer. Finally, you'll need to pick what takes priority in your selections; do you want a device that meets the performance needs, or has the right ports, or is your preferred brand.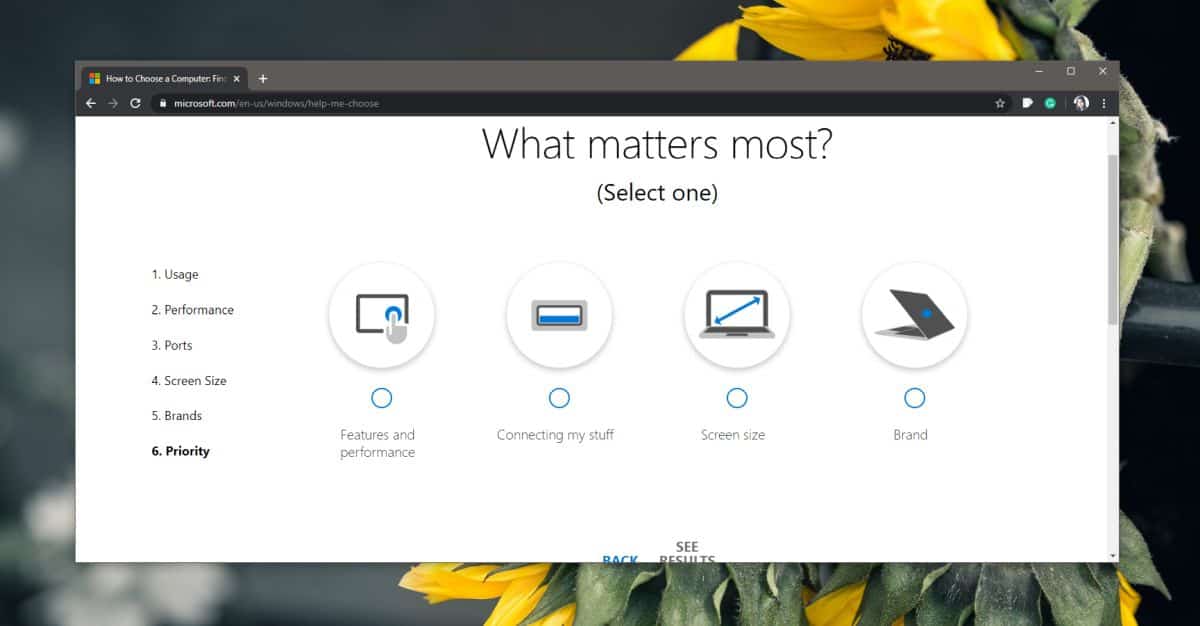 Once you're done with the selections, the Microsoft Choose a Computer tool will show you four options. The first option is the closest match and the other three will have something that doesn't meet all your requirements. In some cases, the best match may not meet all your requirements as well.
This tool isn't going to go through a list of every single PC that's available in the market. The suggestions are good but you can still explore and find other/better/more suitable systems. The tool is a good place to start especially if you want to know what kind of hardware you can get at various price points.