Fix Microsoft Security Essentials [MSE] With Restore Tool
Microsoft Security Essentials (MSE) is used by many Windows OS users to protect their systems from malicious and potentially harmful threats. Like any other program, it is possible for MSE to get corrupted somewhere down the line, perhaps due to a faulty installation or after a PC virus attack. If MSE isn't functioning optimally on your PC, then you should consider using the MSE Restore Tool to solve problems with MSE. The restore tool fixes registry entries and values affecting MSE so the application functions the way it did after fresh installation.
Launch the portable tool on your computer. You will be prompted to restore Microsoft Security Essentials. Click on the message box, and wait for the program to fix MSE on your system. You are prompted when the tool successfully restores MSE.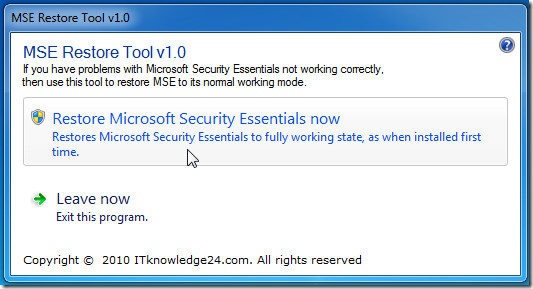 A useful tool for restoring Microsoft Security Essentials, enabling it to efficiently protect your system against security threats.
It supports Windows 7 OS; testing was carried out on Windows 7, x86 system.