How To Fix No Audio Output Device After Window 10 1809 Update
It wouldn't be a Windows 10 update if there weren't massive, work-interrupting, embarrassing bugs to go with it. A new bug appears to have surfaced on Windows 10 1809 whereby users are unable to get any sound output. Windows 10 tells them there is no audio output device installed, or they simply do not get any audio. Most users have experienced this on HP machines though some have also experienced it on Dell systems.
This is, yet again, a driver problem and it's not an easy one to fix. It depends to a great extent how this bug manifests on your system.
Solution
The solution is to remove Intel SST audio drivers. These drivers appear to have been installed by Windows 10 and they prevent the RealTek audio drivers from working. The tricky part is getting rid of the Intel SST audio drivers as they appear to come back.
Open Device Manager and expand Sound, Video, and Game Controllers group of devices. Check under these devices to see if you have Intel SST installed or not. There may be more than one entry.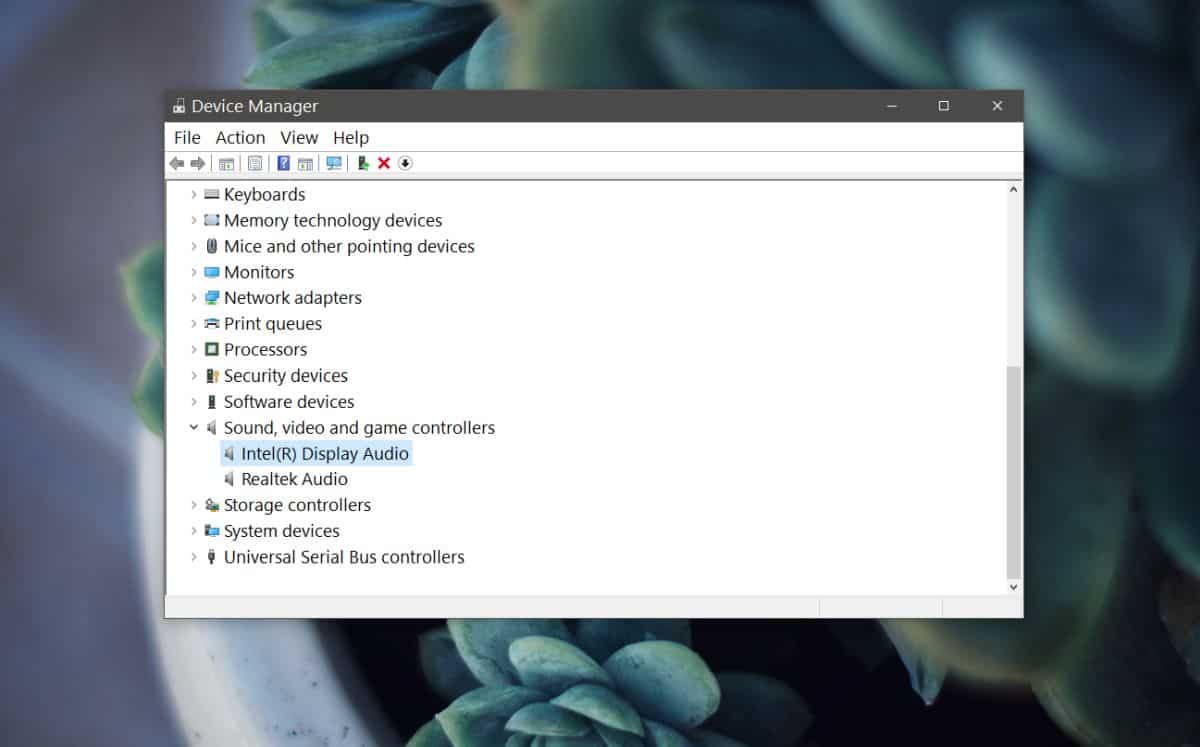 Right-click each one, and use the uninstall option to remove these drivers. Once removed, download and install RealTek audio drivers again.
If you are unable to uninstall the drivers, or Windows 10 installs them again, right-click each Intel SST entry, and see if any of them can be rolled back. If any of them have a roll back option enabled, use it and then install the RealTek audio drivers.
It is possible that RealTek audio drivers are installed on your system however the presence of the Intel SST drivers prevents the RealTek drivers from working which is why you need to remove them.
If there is no roll back option, and uninstalling the Intel SST drivers just brings them back after a while, you can try one of two things. Download the RealTek drivers for your system and after uninstalling the Intel SST drivers, manually install the RealTek drivers from the Device Manager. Allow Device Manager to look for other drivers but if it fails to find the correct ones, use the driver that you downloaded and install it. After that, stop Windows 10 from updating drivers until a fix for this is available.
The challenge here is going to be getting the Intel SST drivers off your system and keeping them off. Unfortunately, due to the nature of this bug, we can't give specific instructions for all systems but once you have a general idea of what you need to do to fix it, you can search for information that will allow you to fix your specific system.