Fix Skype High Memory Usage Problem In Windows 8
When we talk about VoIP (Voice-over Internet Protocol), the word Skype definitely hits our mind. It is arguably the most renowned VoIP service in the world and millions around the globe use it on daily bases to keep in touch with their friends, family or co-workers. Although, since its acquisition by Microsoft for US$8.5 billion, the company has seen a deterioration in its service, its popularity is still among the masses. Skype rolled out its updated version (5.9) back in April, with some improvements and feature enhancements here and there. However, 5.9 hasn't been so friendly with Microsoft's Windows 8, and recently, people across various forums started to complain about Skype 5.9's excessive use of system resources under the recently released Windows 8 Release Preview, which involves shooting up the CPU usage to as high as 35%, considerably high for a VoIP application. Microsoft however, acted quick in providing the fix, as the folks over at Skype have released a hotfix (version 5.9.0.123) that prevents the application from using too much CPU resources. We took the plunge and tested the new version ourselves to see whether the hotfix actually 'fix' anything or not.
During testing, we downloaded and installed both the previous and new (5.9.115 and 5.9.123, respectively) versions one by one, to see what difference does the update actually make. First up, we tried (5.9.115) and the CPU usage monitored was axiomatically high. We hopped into the Task Manager and horrified to see that Skype's CPU usage was lurking around at approx. 32%, while memory usage was capped at 70.7MB. Even though RAM usage seemed in line with the specs, CPU was definitely acting abnormally.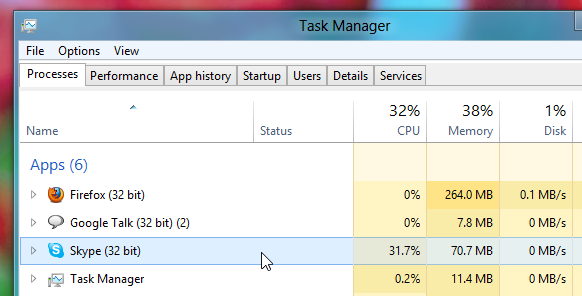 Next up, we upgraded the application to the latest version (Skype 5.9.0.123), which took only a few minutes, of course, and then jumped back to Task Manager to check whether everything goes back to normal or not.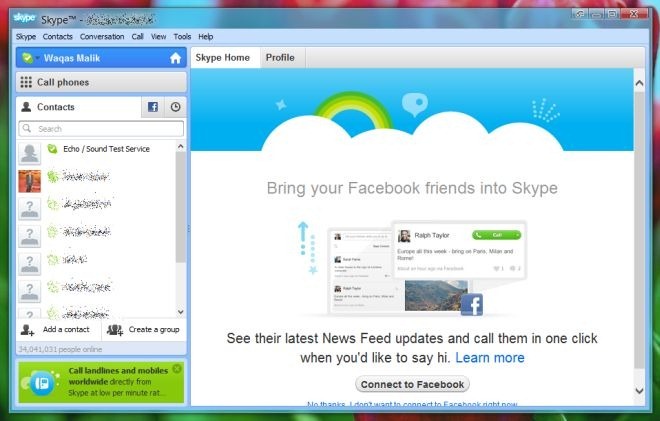 We were delighted to see that the new version does settle down everything to where it should. CPU usage went back to normal, i.e. to zero percent, while there was no change in memory usage, which already seemed to be fine in previous version anyway.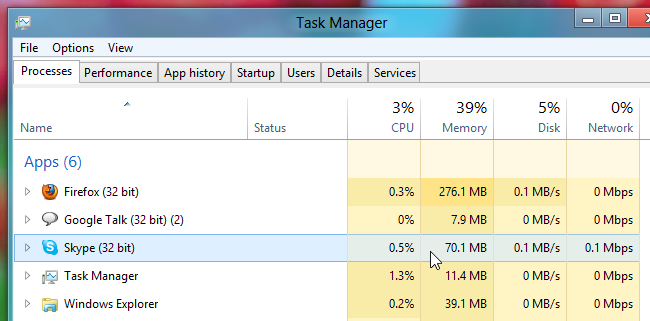 We then also wiped out Skype completely from our system, and then reinstalled it from scratch just to double check, and to our pleasure, the story was the same, with application sitting normally at the background without crunching our system performance. So those of you who are using Windows 8 Release Preview, we highly recommend upgrading to the latest Skype version. Happy skyping!