Flickr Photo Downloader: Download Flickr Images From Public Profiles
We have previously reviewed a number of Flickr image editing and batch downloading applications, like Flickr Edit and Bulkr. However, such applications are either restricted to downloading images from personal accounts or have convoluted settings and are often resource hogs. Recently, we came across a light weight Flickr batch download application known as Flickr Photo Downloader. Despite being a Java-based program, it has a memory stamp of just 12 MB (approximately), and provides simplified options for downloading images from any Flickr profile that has made images public.
Flickr Photo Downloader is a portable software and requires no installation. It has a very simple and clean interface, requiring only the Flickr account name, destination folder, image size and page number(s) to download images. For example, if you come across some nice images from a user xyz, and would like to download images from page 1-5, then enter their account name, select a destination folder to save the images, a size (small, medium or large) for batch conversion of the images, and the number of pages (e.g. From page number 1 To page number 5). Click Download to obtain the images.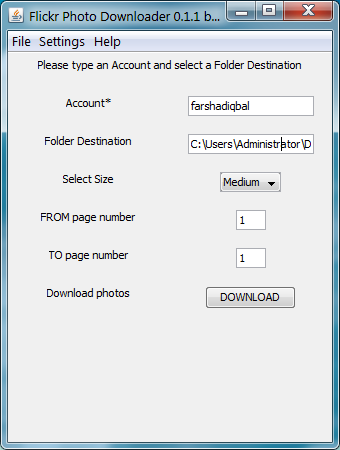 Flickr Photo Downloader is quite fast in grabbing the target images, and merely takes a few seconds (depending upon the image size and number) to a minute for the images to be downloaded. Once the process is complete, a confirmation message is displayed that the images have been successfully stored to local folder. You can click the Watch Them option to open the destination folder.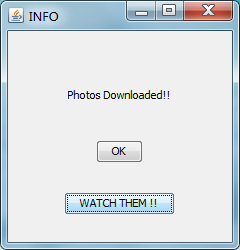 All downloaded images are named according to the your account name and size.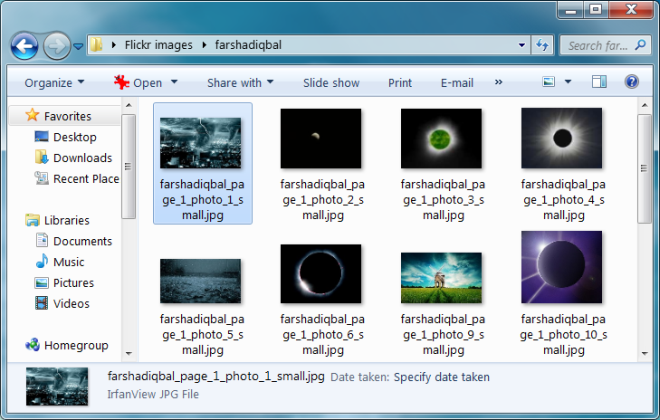 Flickr Photo Downloader is an open source application, which works on Windows XP, Windows Vista, Windows 7, Mac OS X and Linux, provided you have Java installed.
Download Flickr Photo Downloader