Flipboard Comes To Windows 8.1 & RT; We Go Hands-On [Review]
When we talk about news readers and magazine apps for different mobile platforms out there, Flipboard has got to be among the first names that comes to mind. The popular virtual magazine has gained a lot of praise across both iOS and Android from users and critics alike, for offering an immersively pleasant experience of reading popular as well as self-curated news stories from around the world and social media in its beautiful interface. With the rather moderate yet steady rise in the popularity of Windows 8.1 and RT platforms, and with more and more tablets as well as other touch-screen computers sporting the OS hitting the market, it was only a matter of time before the developers behind Flipboard would notice the natural demand for their app on these devices, and the release of Flipboard for Windows 8.1 on Windows Store is testimony to that. The app brings its same highly visual reading experience to computers and tablets sporting Windows 8.1 or RT, complete with all its gestures, flipping animations as well as magazine discovery and curation tools that it has come to be known for. Join us, as we take an in-depth look at the app and all its features.
Upon launch, you're presented with a beautiful, full-screen image that changes with an animation every few seconds. Use the Flip button on the center-right to proceed with setting the app up from scratch, or hit the 'Already have an account' button at the bottom-right if you are already a Flipboard user on another platform and want to bring all your magazines to the Windows app.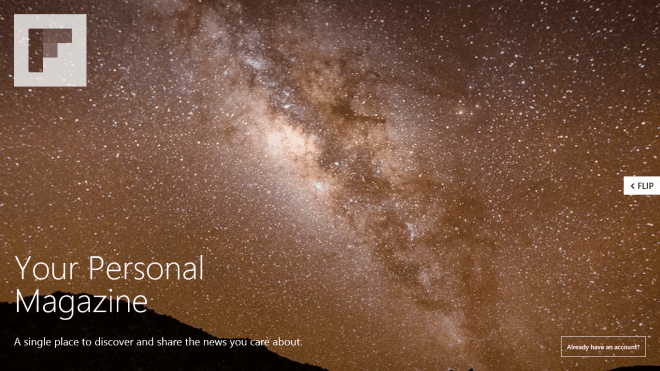 To make the process of getting started easy for new users, Flipboard offers them some already curated magazines to begin with. These include several categories such as News, Technology, Food, Travel, Gaming and more, along with your social media feeds for Facebook and Twitter.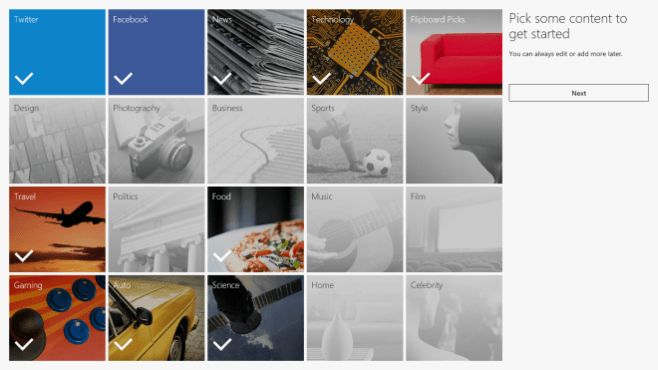 You can sign in with your existing account by specifying your username and password, or using your Facebook account for the purpose. Similarly, a new account can also be created by choosing a new username and password, and specifying your email address, or by connecting with Facebook. Upon registering with an email account, users will be sent an email to confirm their registration.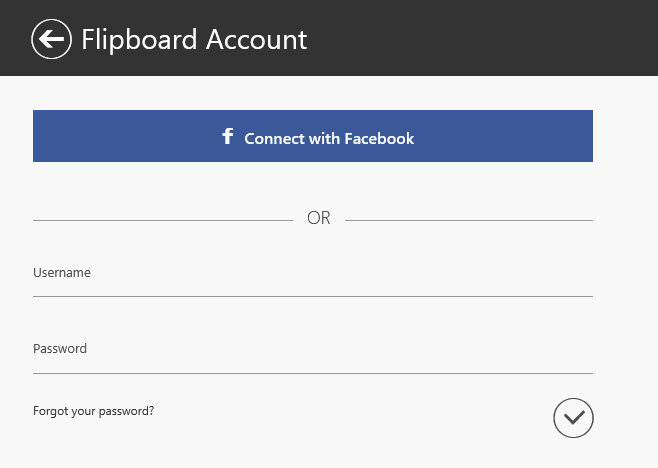 Upon signing in, you'll be taken to the app's main page that lists all your magazines presented in visual tiles that look gorgeous. You can scroll horizontally using the scrollbar or swipe gestures to reveal more of your subscriptions.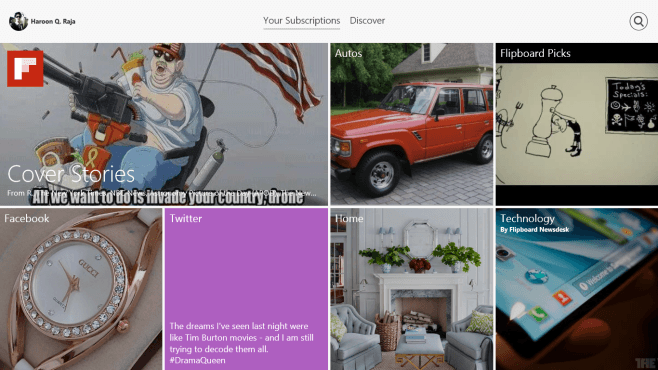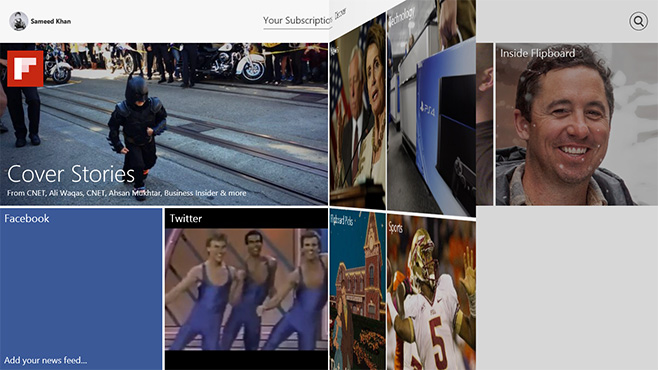 From the tabs at the top, you can switch between your subscriptions view that we've just seen, and the Discover view that lets you find interesting magazines based on topics as well as chosen by the existing Flipboard user base. Upon coming across any magazine of interest, simply hit the bookmark icon on its tile to add it to your Flipboard.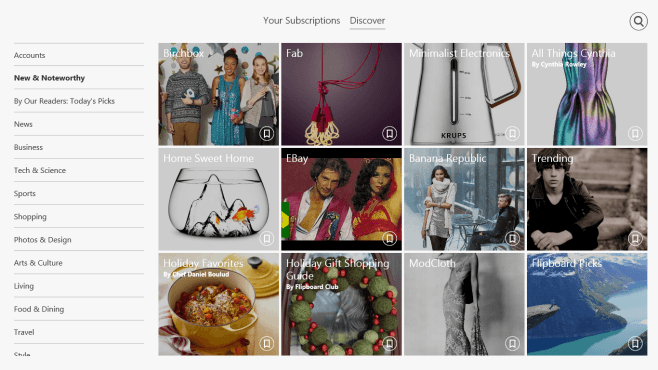 Bringing up the app bar on the main page lets you jump to your profile (that you can also do from your profile info shown at the top-left), sign out of your account, refresh your feeds, or edit your subscriptions.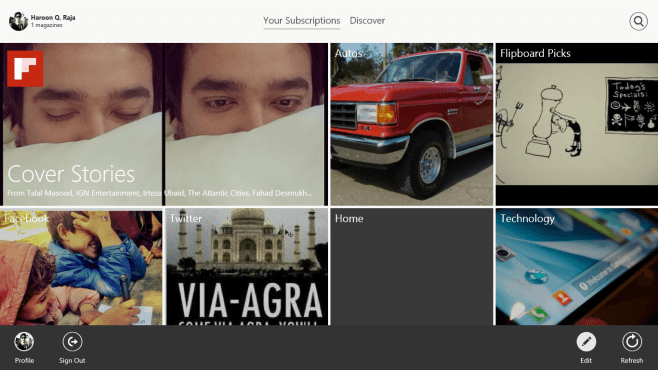 The editing mode lists all your currently subscribed sections, along with the ability to remove them individually by hitting the respective cross icon.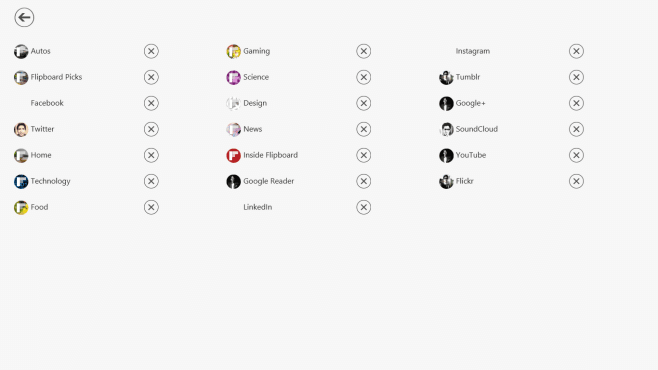 The app comes with a universal search feature that lets you quickly find magazines as well as news stories based on specific terms of your interest. The results are displayed instantly, and clicking them takes you directly to the relevant story or section in the app.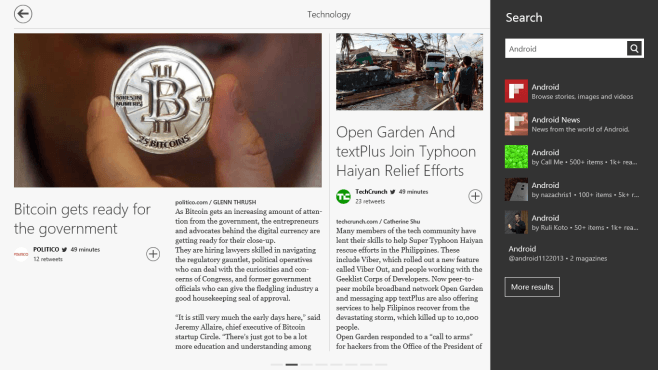 If the few displayed results don't suffice for you, hit the More results button, and you'll be able to search more deeply for the terms across all content on Flipboard.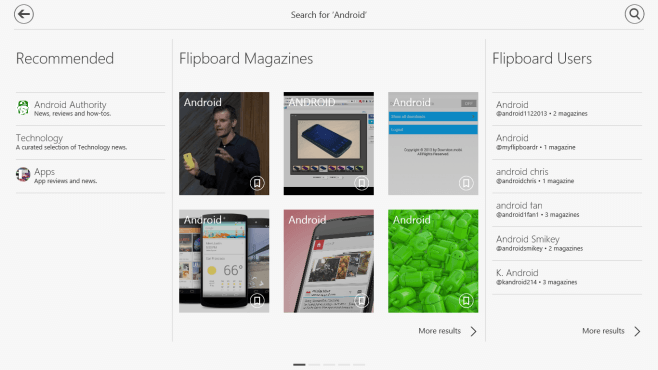 Moving on to particular magazines, when you open one, you are presented with a few top stories from that section, presented in visually stunning tiles with large images.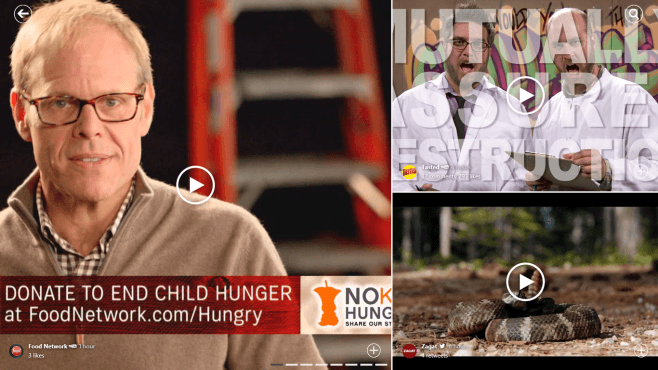 Flipping forward presents more content from the magazine, all laid out in beautifully arranged columns to give you the authentic magazine-reading experience.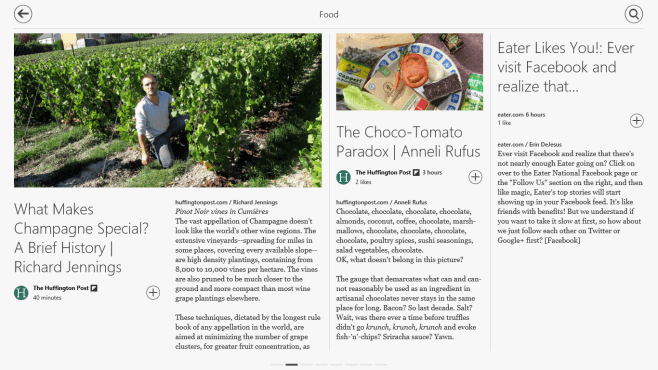 Bringing up the app bar here puts up a lot of options at your disposal. From the top part, you can directly jump to all the different sections of the magazine based on their source, while the bottom section of the app bar lets you subscribe to or unsubscribe from that magazine, pin its tile to Start (with a custom name and different tile size choices), use the + Flip button to add it into one of your own magazines, report the content in case you find it inappropriate, or refresh the magazine.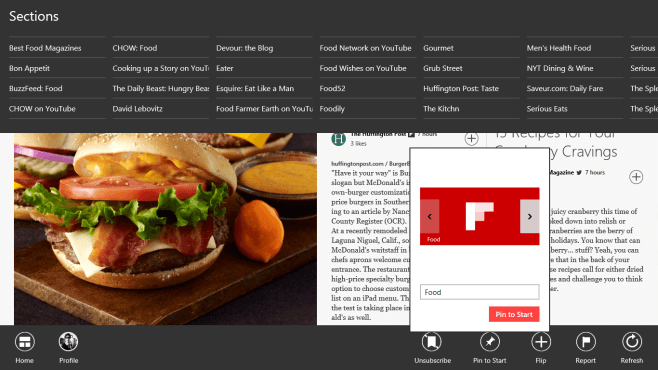 On any story, you can use the + button to 'flip' it into your own magazine. You'll be presented with a list of your existing magazines, along with the option to create a new one. Creating a magazine only requires you to specify its name, a description, a category from the available choices, and whether it should be visible to everyone or just you. After a magazine has been created, any stories you flip into it will become a part of it, along with any message that you add, and will be viewable by others in a magazine-like manner if it's publicly visible. You can also share the stories over social media as you flip them.
A great new feature in Windows 8 is the ability to use split screen mode for viewing multiple Modern UI apps or one Modern UI app and one desktop app side by side. Windows 8.1 further enhanced this feature by letting users choose different widths for the apps in split screen mode, and Flipboard takes full advantage of that, as you can see below.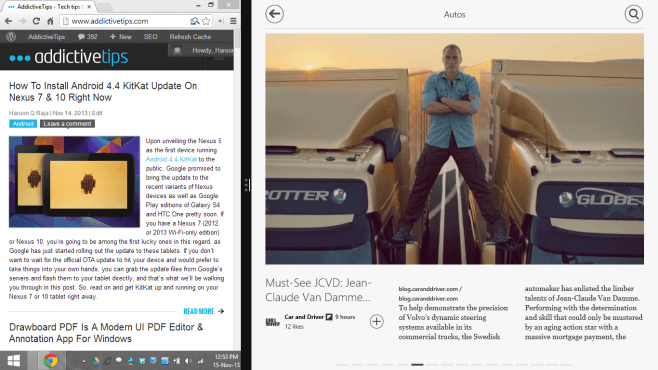 The split screen view can be easily resized between narrow and wide variants to get viewing experience that best suits your needs.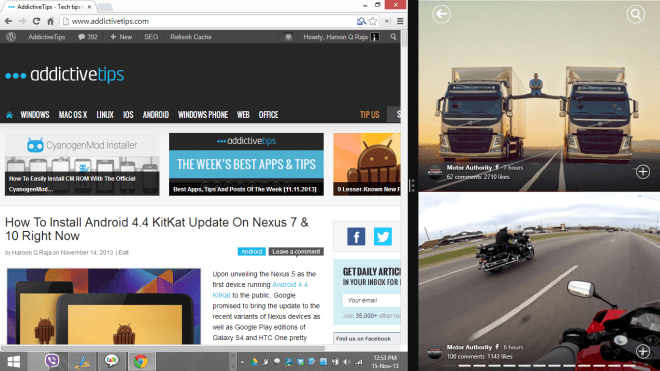 As mentioned before, you can access your profile from the app bar or the profile info displayed at the top-left of the app's home screen. Once at your profile, you can view your profile details and curated magazines, as well as edit your profile info.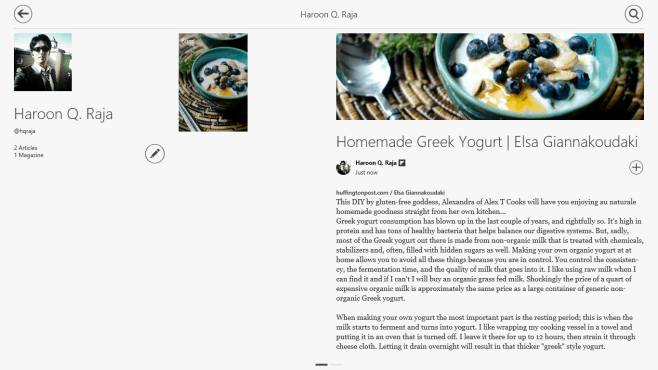 The profile editor opens up in a sidebar on the right, allowing you to specify your full name, a short bio and a display picture. Click More Settings… and you'll be able to change your Flipboard password and email address, retrieve a forgotten password or username, remove your account, or get the confirmation email resent to you, in case you didn't receive it upon registration.
More of the app's own settings can be accessed from its Settings charm, from where you can choose the locale to use for your Content Guide Edition, and change the app's webcam & notification permissions.
Flipboard for Windows 8.1 is a long-awaited release that has managed to bring everything that's awesome about this service to Microsoft's PC and tablet platform. If you a are already a user of the service, getting the Windows app is a no-brainer, but even if you have yet to try it out, now would be a great time to give it a shot.
Install Flipboard from Windows Store