Flitskikker Info Tool: Compare System Specifications With Game Requirements
Sometimes, it happens that we buy a game, bring its CD home, install it, and when run the game for playing, we find that the game is not compatible with our hardware, meaning that either we need more processing power, more RAM, or a better graphic card in order to run the game. Sometimes, lowering the graphic requirements from the game options can be a solution, but that does not work every time. In order to avoid wasting money on games you cannot even play, it is important to know which ones is your PC capable of running. Flitskikker Info Tool is a system information utility that displays information related to hardware connected to your PC. The application generates a text file as well as BB Code with all the accurate system information which can be saved and posted on forums whenever you need help with a hardware issue. Flitskikker Info Tool includes a Game Advisor to help you identify compatible games exactly according to the specification of your system. You can select a game from a list to compare system's specifications with the requirements of a game to check whether your PC hardware is capable to run the game or not.
Flitskikker is quite similar to a previously-covered system information tool, Speccy. Compared to Flitskikker, Speccy is a bit advanced as it shows detailed information for each component, and updates the system info in real time. The main interface displays basic information about primary system components, including Computer, Motherboard, Processor, Memory, Hard disk, Drives, Sound Card, Graphics Card, Display, Network Card, DirectX and Operating System.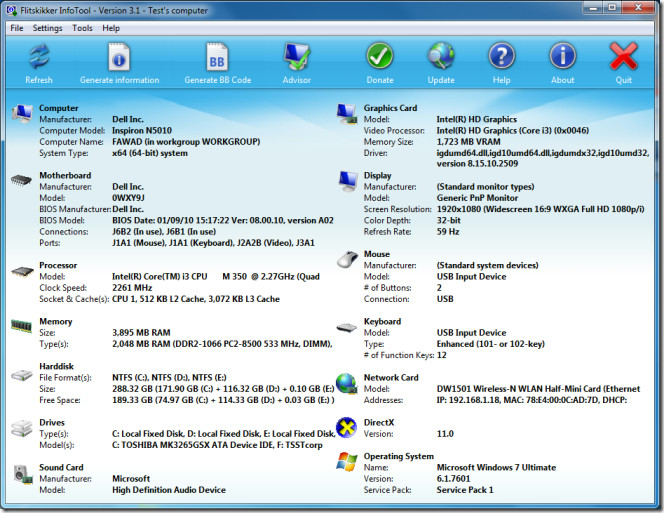 Using the Generate Information and Generate BB Code, you can generate a system info report in text file and BB code format, respectively. You may copy, save or print the BB code or even convert it to HTML via Export option.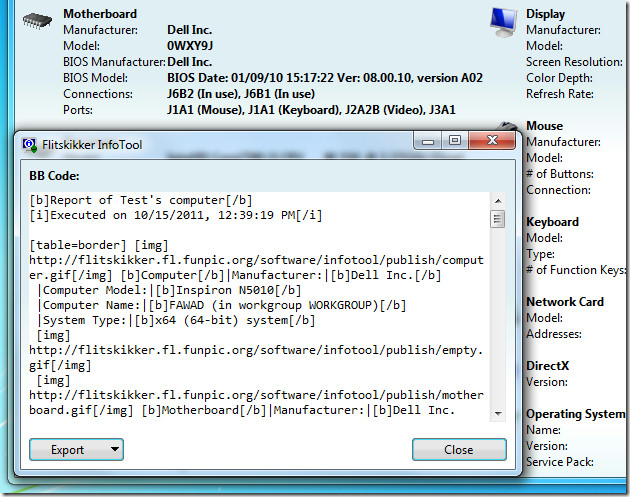 With Advisor, you can compare your system's current specifications with the requirements of different games. It checks your system against Minimal or Recommended settings of a game. When you, for instance, select Call Of Duty 6 from the list, it will highlight the gray areas where your PC might fail while running the game, such as, pixel shader, GPU strength, OpenGL drivers, CPU clock, minimum available RAM and hard disk space, etc.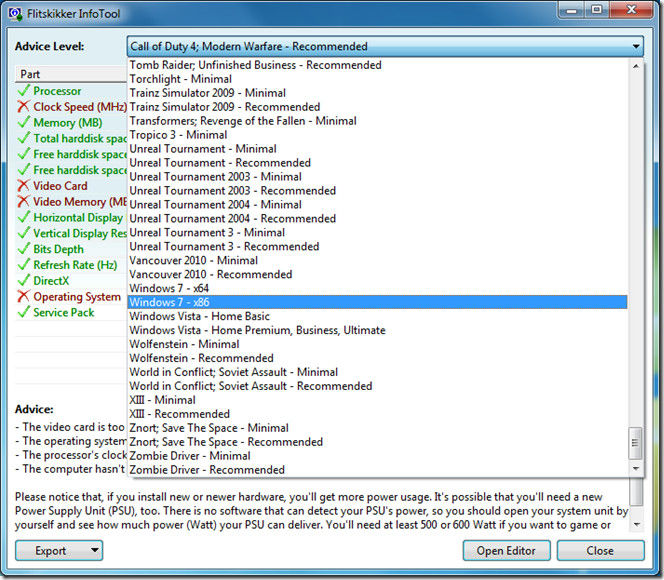 One major downside is that whenever you run it, a window pops-up compelling you to donate to the developer, which can be quite annoying. Flitskikker Info Tool works on both 32-bit and 64-bit versions of Windows XP, Windows Vista and Windows 7.
Download Flitskikker Info Tool