Forecaster Shows Weather Updates For Different Cities (Time Zones)
Just a few days back we covered WinThunder which showed both the weather and allowed you to create shortcuts in a jumplist from system tray. Unfortunately, it had limited weather-related functionality. Deviantart user laushung, inspired by WinThunder has now developed a similar app which focuses on Weather updates only.
Forecaster is a portable application which displays a four day weather information from multiple locations (cities) simultaneously. The forecast can be viewed by clicking on the system tray icon, which changes its look according to current weather conditions.
To set a default location for receiving forecasts click Change Weather Settings from the system tray.
From here, you can click on Change Location to set a default location. The update frequency can be set from the drop down menu (e.g. every minute, 5 mins, 1 hour, etc). To make sure that you get updates for changing weather conditions, check the "Notify me when current conditions change checkbox".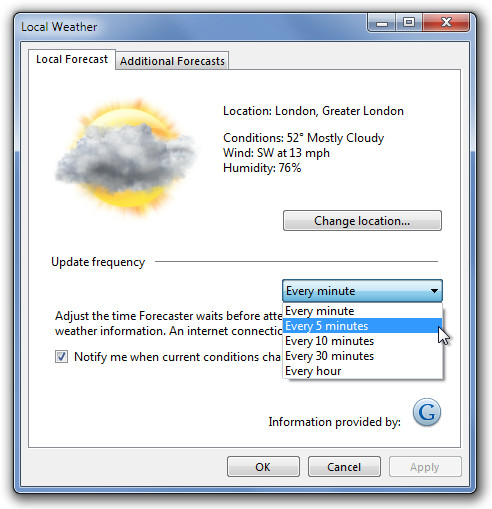 The feature I really liked is that it provides the option to get weather forecast from multiple cities. You can head over to the Additional Forecasts tab, click Add and enter a city name to start receiving forecasts. During testing, we added several cities to this list and it appears that there is no limit to the number of cities that you can add for receiving weather forecasts.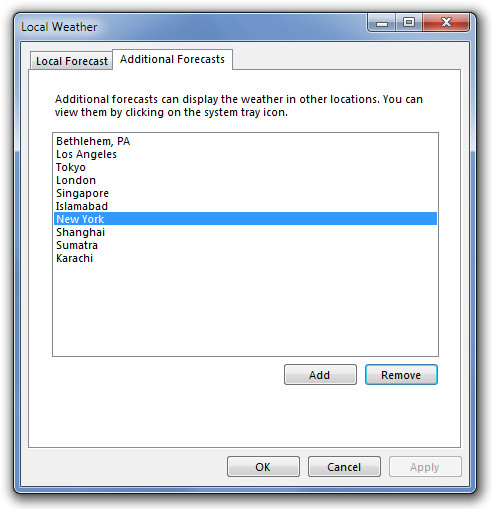 To view the forecasts, click on the buttons below the current forecast to switch between numerous forecasts from your selected areas. The system tray icon changes according to the weather condition of the selected areas e.g. it turns into a sun, cloud or rain drop icon.