Format, Optimize And Clean Up Source Code With Code Chameleon
It is obviously very hectic task to manually clean up source code, scripts, and web pages, according to set programming language definitions and to properly align each type of class, structure and construct contained in your code. One problem which software developers face a lot is removing superfluous tags and characters from code file manually. Since many IDEs generally don't have an in-built cleaning tool to remove such un-necessary characters/tags and to find out logical errors, it becomes indispensable to run the code in development environment to verify it for any type of anomalies that may become a huge problem in forthcoming development stages.
Code Chameleon is not an application development environment but offers almost all the tools to create and especially clean up code file. Since it is targeted towards application and web developers, it caters to all the widely used programming languages, including, HMTL, JavaScript, ASP, CSS, ColdFusion templates, PHP, Java, C & C++, SQL, TCL, VBScript, PERL, Fortran, and C# (C Sharp). It has a powerful code cleaner tool which can properly format the code, set paddings and margins, handle single lines, change bracket styles, and control indentation across the code file.
To start out, launch the application and drag the code file over the main interface. The syntax highlighting features lets you easily identity syntax errors in the code file. Based upon the type of source code file, you can use the respective menu lined up at the top. For example, if you're intending to clean up HTML file, from Html menu, you can quickly bold selected text, add paragraph tags, create table, ordered and un-ordered lists, insert page break, and align selected lines of code. Underneath the menu bar, there are a slew of editing options available on toolbars for applying text styles, insert anchor tags, colors, forms, and to bookmark select lines, and so on.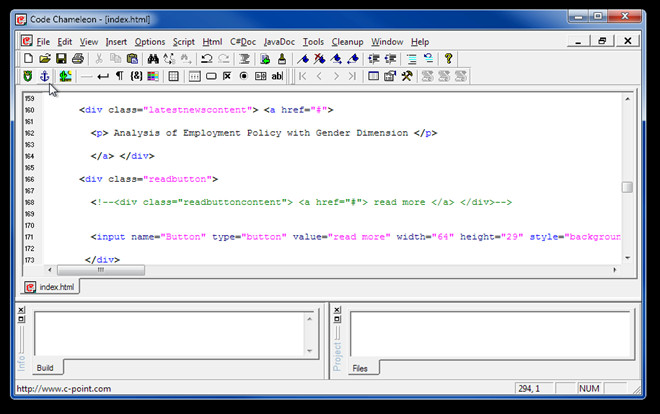 The code cleanup features are bundled in Cleanup menu. The Reformat code feature has a lot of options to quickly clean up the code. You can also perform formatting action and then repeat it on other lines of code to instantly format the code. It's a dedicated feature to clean up and re-format XML, XHTML and HTML files according the best code cleaning practices.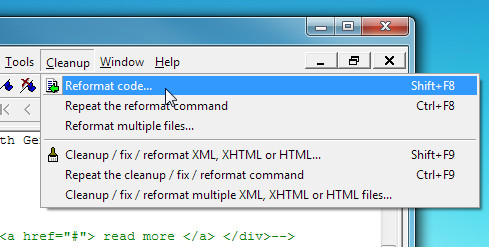 The Reformat code window has all the aforementioned options to clean up the code. To view the effect of code clean up option, just hover mouse over an option and watch the preview at the bottom.  Once you've configured the clean up options, click Do it! to perform the code cleaning process.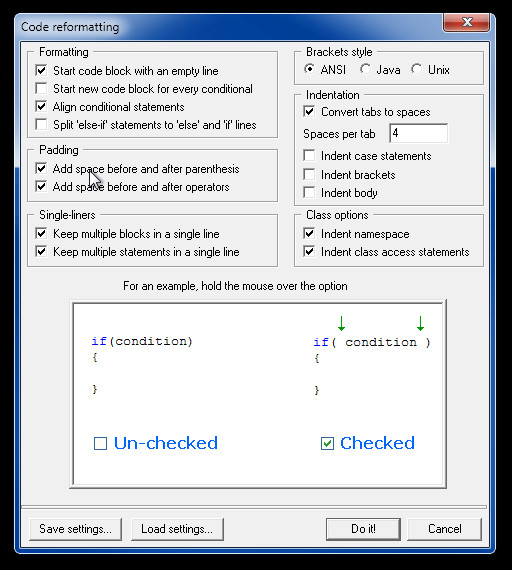 The application will specifically come useful when hundreds of class structures contained in a code file are to be straighten out. It will also come handy when you want to align code modules according to their types, and apply proper indentation across the complete code file. It runs on Windows XP, Windows Vista, and Windows 7.