FortiClient EndPoint Security Review – Free Antivirus
FortiClient EndPoint Security Standard Edition is a free antivirus from FortiNet that is targeted towards Home users. There has never been a free antivirus from them but recently they have launched a Standard Edition which is free for Home Users.
These have been some tough month for antivirus makers, recently Microsoft Security Essentials got a small upgrade, Avast 5 Free Antivirus Beta was launched, Trend Micro 7 Housecall Beta was introduced, and many others have started contending in the free antivirus market.
FortiClient Antivirus is quite small(only 11MB), but during the first update it takes quite some time to install the latest definitions and update.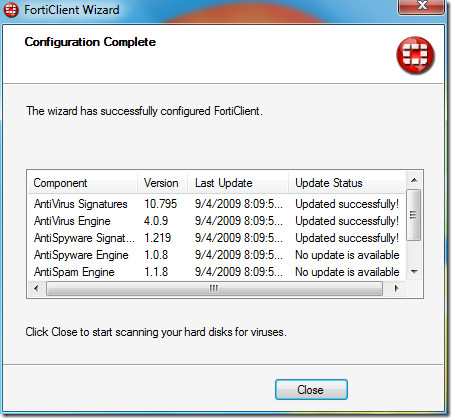 When you run the setup for the first time it will ask if you want to install FortiClient SSL VPN package too.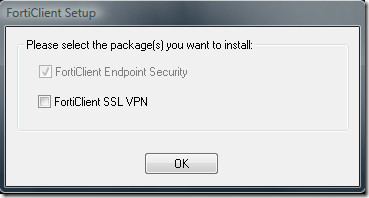 It has a clean and easy-to-use interface with all options neatly laid out on the left sidebar.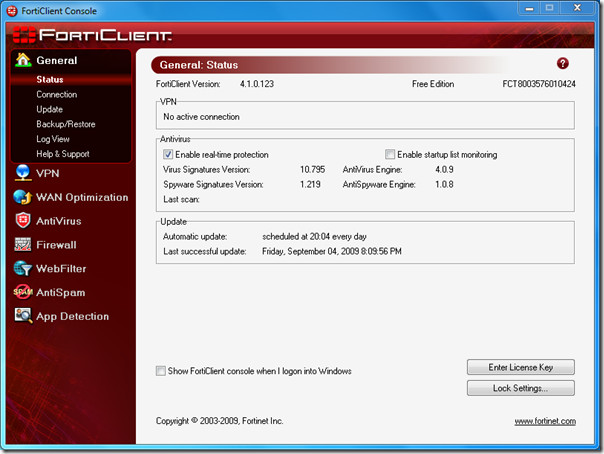 It comes with real-time protection and the speed of scanning is quite fast(but not as fast as Avast 5 Free Antivirus).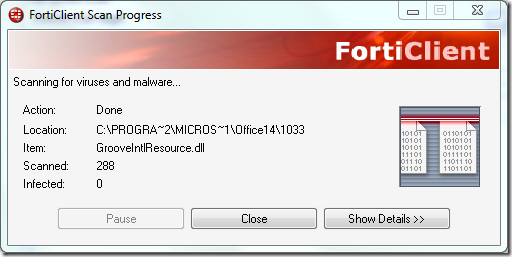 Overall it is just another antivirus software out there except that it comes with SSL, IPSec VPN, Endpoint Control, and WAN Optimization. These important features cannot be found in other free antivirus software. When it comes to scanning and detecting a virus, it performs good but the virus database is not as big as Avast, Mcafee, or Norton.
One important thing to note is that it will not start the scan if you are using a laptop on battery power. You must connect the power supply in order to Resume the scan. Perhaps this is because scanning takes quite some power and system resources and running it on battery makes no sense.
Download FortiClient EndPoint Security Standard Edition
It works on Windows XP, Windows Vista, and Windows 7. Both 32-bit and 64-bit installers are available. It integrates perfectly with Windows Action Center. Enjoy!