Foto-Mosaik-Edda Is A Highly Customizable Mosaic Creator For Windows
Mosaic photography is something we all love. Whether you do it as a hobby or for the sake of your profession, it's a unique, exciting and fun way to share your favorite photos with others on the internet. Today, we have a mosaic creator for you called Foto-Mosaik-Edda. This Windows application is designed to let you create fabulous photo mosaics using either your own image database or grabbing images directly from Flickr, which you can then poster-print in high resolution. It's a feature-rich mosaic maker that comes with plethora of settings; for instance, the ability to set tile pixel size and tile count, image orientation, specify custom poster size in megapixels, tile format (digital cameras, DSLR cameras and HD), Flickr support, tile borders and many others. Is it worth a try? Read on to find out!
Usage
Foto-Mosaik-Edda boasts an elegant interface. The mosaic creation itself is wizard based, divided into steps from creating your image database to carving out the final photo. Before you get started, the first thing you are required to do is to make an image database. On the welcome screen of the application, click Create/edit database to get started.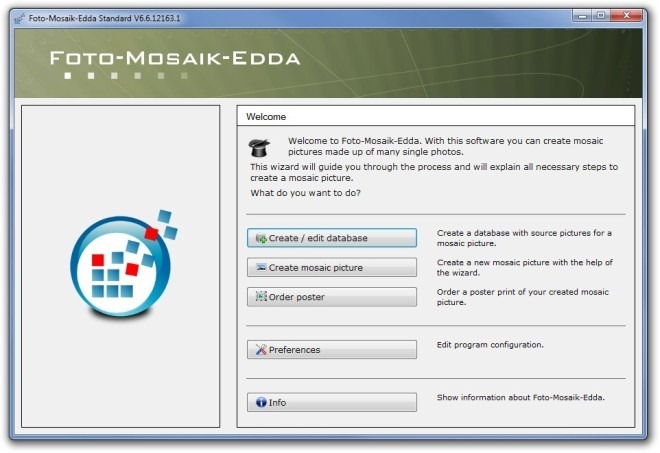 Next up, choose the source from where you want to grab the database images, i.e., local hard drive or from Flickr. If you're using images from local drive, select From my hard drive (recommended) and click Next.
Now, choose your image directory under Add pictures to database section. It's advisable to choose an image directory with plenty of images for the best possible mosaic output, and also mark Include subfolders to extract all the images from sub-directories. You may also enable Include hidden and system files and Synchronize found pictures with database. The application allows you to specify image quality of photos from very low to very high. Simply drag the resolution slider to your desired position, and click Run to begin the process.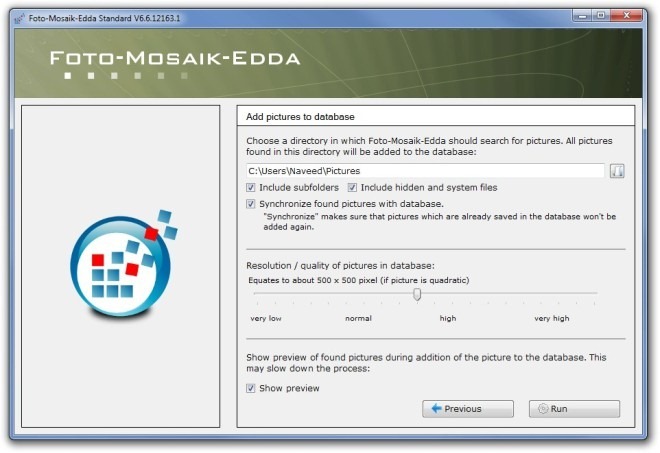 When you have done creating the image database, click Create mosaic picture on the home screen window. You can create mosaic pictures in Classic style, which includes image arrangement in an equal grid matrix. Simply click Next to continue. The software houses two additional mosaic styles, Parquet and Chaos, both of which are only available in professional (paid) version.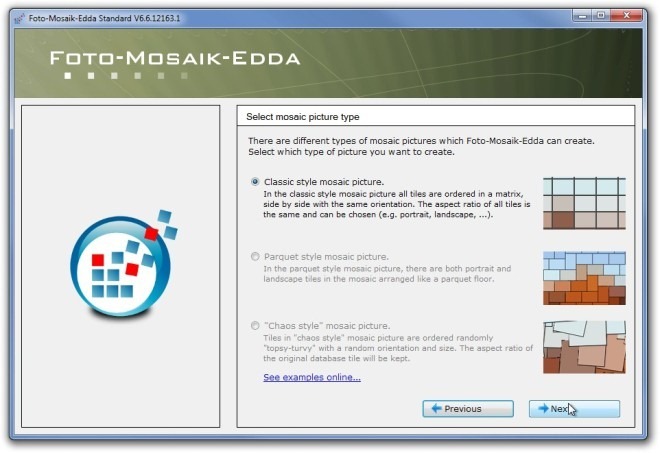 Choose your input image that you want to create mosaic of, as well as the output directory for your creation. Here, you can also select format for the final mosaic between Single image file and Multiple image files – where the latter divides the image into a number of chunks. When using multiple images, you may also specify pixel count for the Part size.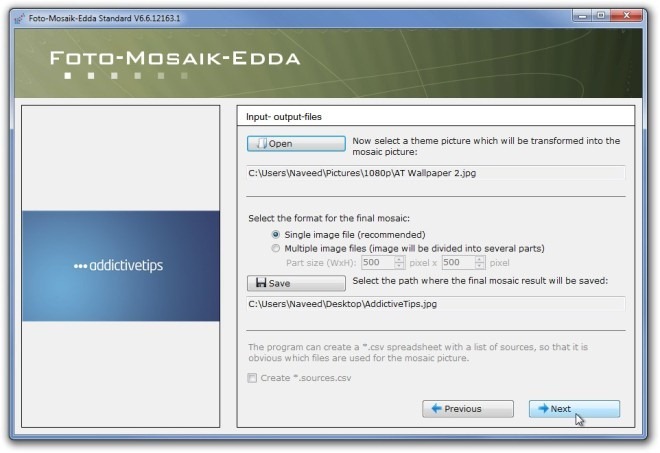 Once you have finalized the photo, you need to choose the image database to be used for the mosaic. Mark the database(s) from the list and click Next to continue.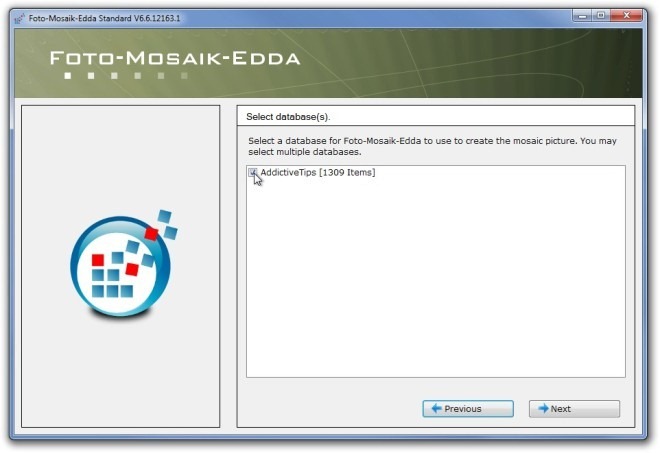 How the output image will look like depends on the settings you choose under Mosaic options section, where you need to set Paper size of the image in Megapixels. The drop down menu contains many different sizes, ranging from 2 megapixels to as large as 104.63 megapixels. More so, you may enter custom PPI (pixel per inch) as well. Nevertheless, the default 150 PPI value is usually more than enough for beautiful looking mosaics. Also contained in this step is tiles count for mosaic. It's worth noticing that the more tiles you use, the sharper the final image gets. Finally, choose image orientation among  Landscape, Portrait and Quadratic and click Next.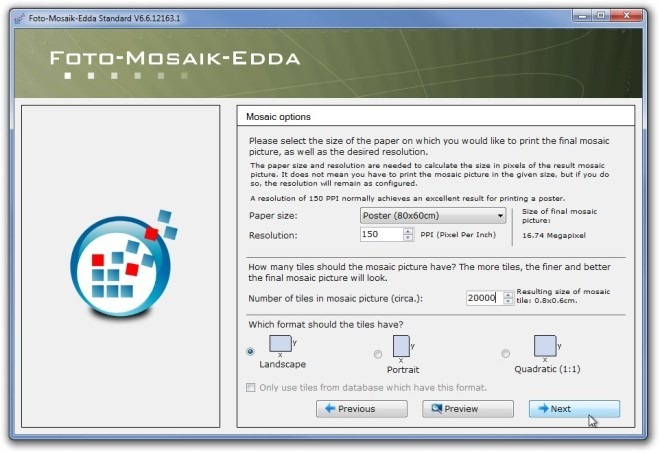 In the next step, choose the maximum number of tiles repetition. You may have to try a couple of times before you opt for best possible repeat counts, but if you have a large number of images in your database – let's say, more than three thousand – the software won't need to perform frequent repetitions, and setting this value to a lower number is recommended.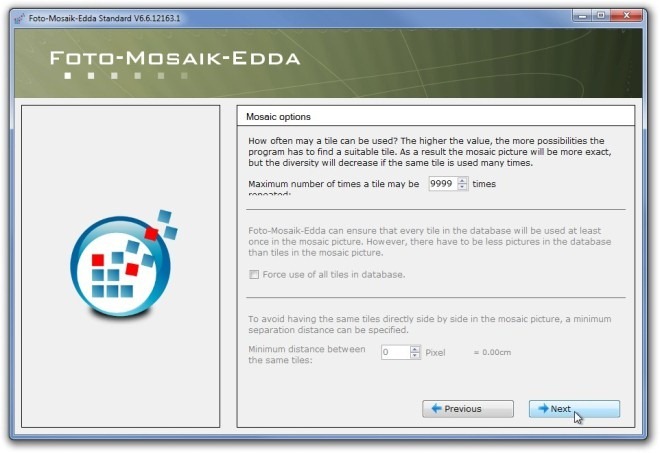 Lastly, you can choose to adjust level of overlay transparency of the original image file to the mosaic effect. Should you want to put in an extra border along the tiles, type in Border Width in pixels, followed by choosing the border color. When everything is in place, click Run to start the mosaic creation process.
During testing, even though the application produced a satisfying mosaic image, we had to go back and forth a couple of times before generating a (close to) better looking image.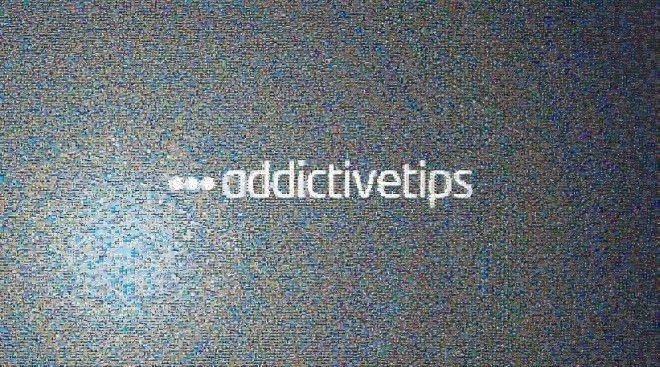 On it's home screen – clicking Preferences takes you the settings panel, from where you can choose application language, output directory of image database, default aspect ratio (4:3, 3:2 or 16.9), default unit for poster size (centimeter, millimeter or inch) and enable auto check for application updates.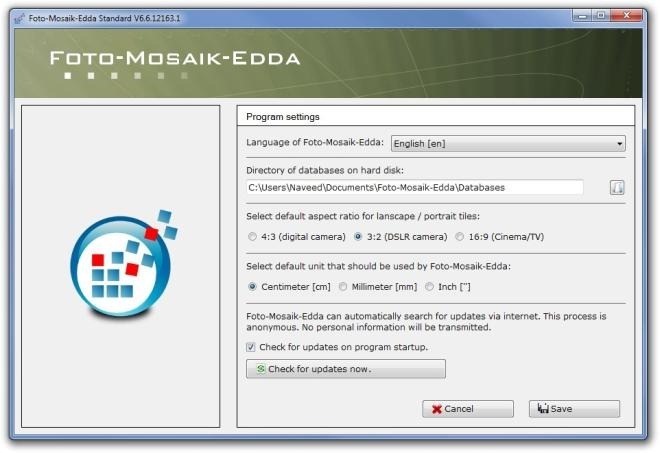 Pros
An extensive set of settings and options to adjust mosaics.
Wizard-based mosaic creation mode.
Integrated Flickr support.
A large variety of poster sizes.
All the major image formats support such as JPG, GIF, BMP, PNG and TIFF
Cons
Creating a perfect mosaic can be very tedious.
Standard version only contains Classic Style.
Even after trying several times, mosaics were far from being perfect.
Final Verdict
To sum it up, Foto-Mosaik-Edda is one great mosaic tool. Although its not the most easy to use – requiring precise adjustment of settings to generate a perfect photo – once you get hang of it, the usage becomes fairly simple. Additionally, if a single mosaic style doesn't satiate your appetite, you can always buy the pro version, which contains two additional styles and various extra options.
---
The application works on Windows XP, Windows Vista, Windows 7 and Windows 8. Both 32-bit and 64-bit OS editions are supported.