Fotografix – Free Lightweight Photoshop Alternative
If you are looking for a lightweight tool for image enhancing, graphic designing, and image editing, then nothing beats Fotografix. It is a very lightweight portable tool(366KB when zipped and 713KB when extracted) which contains the very basic features of Photoshop. It is obviously not a Photoshop replacement but is quite an alternative for quick editing on the go.
So what's the point you ask? Here's the catch, try running Photoshop on a netbook and it will crash your whole system down. This is where lightweight tools like Fotografix comes in. You will be amazed to find so many features squeezed in just under 1MB.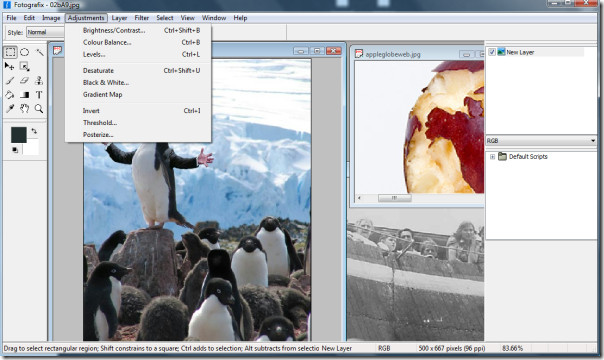 It supports all famous image formats, such as, Gimp, Psd, Jpeg, Bitmap, Png, Gif, Tiff, Targa, Pcx, Ico, Raw, etc. It also supports scripts for automating repetitive tasks. After remaining in beta for a long time, the latest release(version 1.1) is finally out and it contains some important features, such as:
New Levels adjustment for adjusting shadows, midtones and highlights of an image.
Preset image sizes for creating new images: A4, letter, etc. and also dimensions of clipboard image, if available.
Mouse wheel can now be used for zooming.
New Pixelate filter.
New Rubber Stamp script.
It works on all versions of Windows. Enjoy!