Fotor & Its Suite Of Photo Styling Options Now Available For PC & Mac
Fotor is a very well known name among iOS photo capturing and editing apps, and the developers have just released Windows & Mac versions of the app, and that too with a price tag of free. Like Fotor for iOS and Andriod and Fotor for Windows 8, Fotor offers lots of features on Mac as well, including the same effects as its iOS variant, a sophisticated crop feature, and an excellent tilt-shift effect. In addition, it has the usual rotate and color adjustment options that you can find in most photo editing apps, which are usually paid. The tilt-shift effect allows you to add both a radial and linear tilt-shift effect, and its intensity can be adjusted in terms of focal point. You can crop an image to a size that's customizable down to the pixel, straighten an image, add borders i.e. frames to it, and of course, apply color filters. The app can also read EXIF data for your images.
Drag & drop an image on to Fotor, and you can start editing it. If you'd rather rotate it first, look at the bottom of the window where the left/right rotate controls are located next to the compare and zoom buttons.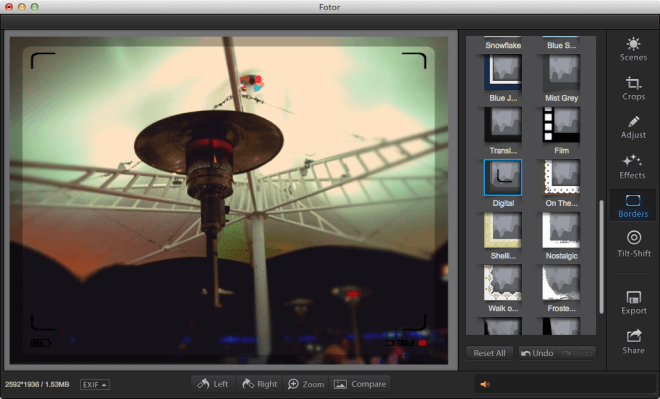 You have six tools available along the right column, with their options and controls appearing in a second column. The 'Scenes' tool allows you to control the lighting in the image. You can choose to leave it as it is, have Fotor auto-adjust it, or set it to look as if the picture was taken in bright sunlight, in a dark room, under a cloudy sky, at sunset, at night, with the flash on, and more. Understandably, you can only apply one of these scenes at a time.
The 'Crop' feature comes with many presets, including a some the exact size and aspect ratio for a DVD cover, a postcard, and the iPhone's screen, among others. The 'Freeform' option allows you to enter a size of your choice in pixels and then move the crop frame around to any part of the photo to crop it.
The 'Adjustment' tool is where you will be able to straighten an image and correct its exposure, brightness, contrast, saturation, blur/sharpness, and more. In the 'Effects' section you get access to all the color filters. Fotor gives you a rich selection of color filters to apply, and also lets you manage their intensity from a slider that appears below a filter. The filters are divided into Classic, Lomo, B&W, Vignette, and Art categories.
The 'Borders' tool lets you add frames to your image and it too has a wide selection for you to choose from. The 'Tilt-Shift' effect is equally detailed; use the switch to toggle between radial and linear tilt-shift, and use the Focal measurements to adjust its intensity. Click anywhere on the image to move the focal point and blur the rest out.
You can reset the image to its original state any time by clicking the 'Reset All' button at the bottom of the options, while the undo and redo buttons are self-explanatory. The 'Compare' feature is slightly disappointing though; instead of viewing a side-by-side before and after comparison, users have to click and hold the Compare button to see the original image, and release it to see the edited version. To view EXIF data, click the EXIF button next to the image's size. Fotor does not offer any batch image processing support. Once you're done editing an image, tap 'Export' to save it. The app can save to JPG, BMP, PNG, and TIF formats.
Download Fotor From Mac App Store