Free Automatic & Manual File Sync Software
Looking for a powerful backup tool or two-way file sync software? FileMyster is a free tool for Windows from Bateel Software that allows both automatic/manual one-way and two-way file synchronizations. You can schedule a synchronization, define which type of files to sync(newer/older), select which formats to sync, and much more.
It is designed for administrators who want to seamlessly backup or sync files between two computers(server and local computer). To begin, click Add, select the Source and Destination folder, choose the Sync Direction, and finally choose the File Types. There are 4 options given for Sync Direction – One Way, Half Mirror, Two Way, and Full Mirror. You can also choose to Schedule the synchronization and select the backup folder for overwritten files in Schedule And Backup tabs respectively.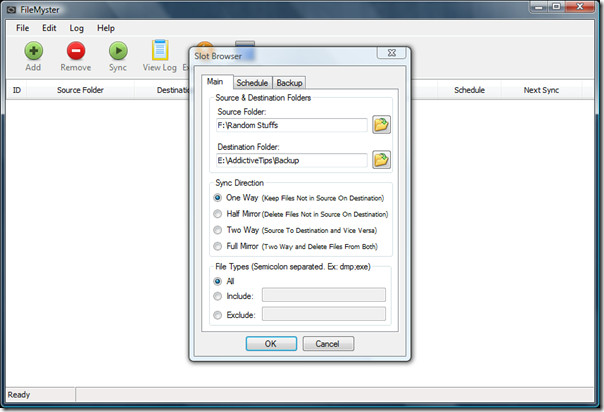 When done, click OK. Note that it won't sync immediately, first you will have to add multiple sync slots, then select the slot and click Sync button to begin syncing. While it is syncing, the progress can be seen in both the title and the status bar.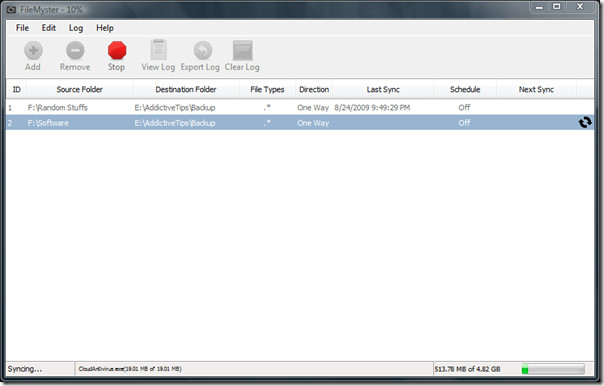 The process can be stopped anytime by hitting Stop button. In the meantime you can minimize the program to the system tray by going to Edit > Preference, enabling Minimize FileMyster into tray icon option, clicking OK, and then pressing Minimize button. You can also customize the appearance from the Appearance tab in Preferences.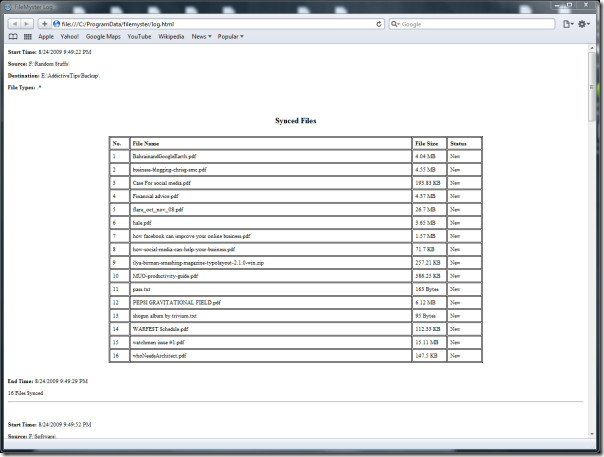 You can also View log(as shown in the screenshot above), Export log in HTML format, and Clear log. Overall, it is a simple, flexible, fast, full-of-functionality syncing tool that you must try.
It works on Windows XP, Windows Server 2003/2008, Windows Vista, and Windows 7. If you are using XP make sure that at least .NET Framework 2.0 is installed. Enjoy!