Check For Latest Software Updates With AppSnap
As usage progresses, it is quite likely that your system will get loaded with various useful applications. We all know how developers like to roll out newer versions of their applications, with latest bug fixes, newer and better features, enhancements, and so on. With a bunch of applications, keeping track of updates can be a tedious task, especially considering the fact that not all applications would cater the option to 'check for updates' in the first place.
AppSnap is an open source, free software that sports a decent library of popular software in various categories, and allows you to download and install latest versions of several applications in one simple step.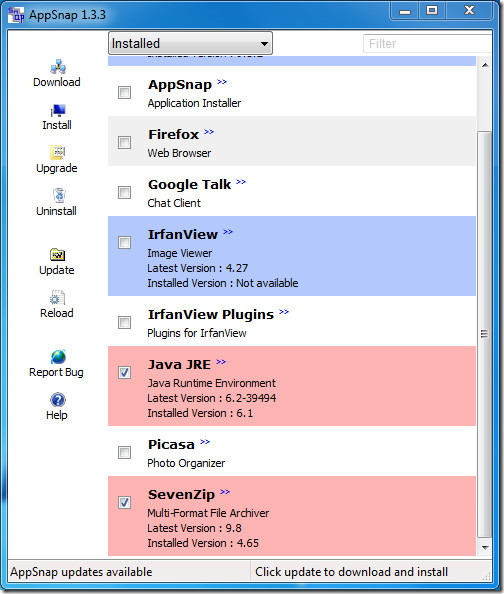 The software's interface is a simple window with a pull-down menu on top and several buttons with clear functions on the left. Apart from these, a list of software is present which can be altered between all, installed, not installed, upgradeable, etc. Right below the software's name resides the category to which it belongs.
Using the drop-down menu, you can choose the type of software which is listed. For example, in the screenshot above, the software has checked my system for those installed applications from whom matches are present in AppSnap's library. It offers software filtering based on a wide variety of software categories.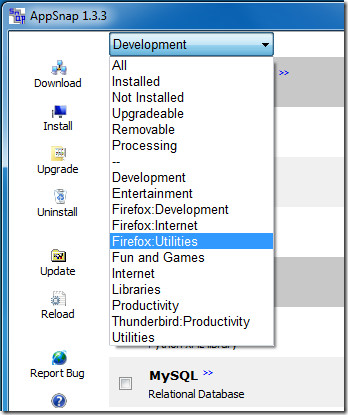 When you click an item from the list of available software, it will expand, showing the latest available and installed version. The two little blue arrows with the software's name will take you to it's website.
Usage is simple. Check all the programs that you want and click any of the buttons from left sidebar. 'Download' will get an installer on to your local system, while 'Install' will add it to your installed programs. If you have some software that can be updated or upgraded (from trial to full versions, for example), use the corresponding buttons. With one simple step, you can have as many software installed, updated, upgraded, and removed without hassle.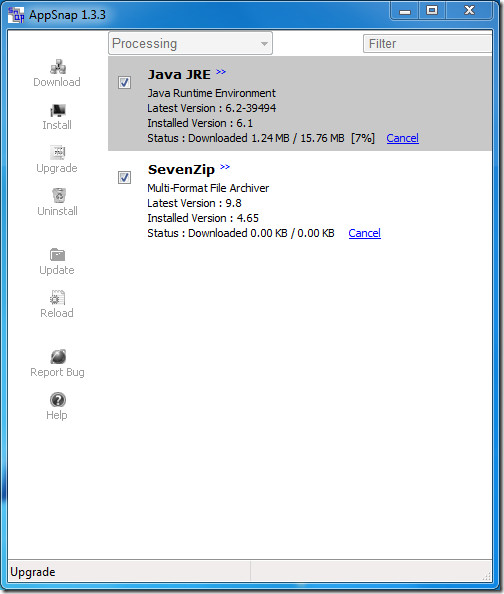 AppSnap was tested on Windows 7 x86 system and worked flawlessly. With the ease of use that it brings, combined with the nicely large software library that it supports, this application is a must have for users with systems loaded with useful programs.