Free Slideshow Maker With Music & Over 160 Transitions
If you looking for a way to create a slideshow with your favorite music and different transition effects, then we have already covered two ways to do that – PhotoStage and Windows DVD Maker. So what is this post about?
Sometimes people don't want to save slideshows, they simply want to show it to someone temporarily and then remove it. If you don't want too fancy or complicated apps, then this is where Quick Slideshow Creator comes in. It is a simple-to-use app that mixes photos with any music to create great looking slideshows. It contains up to 160 different transitions, making it an excellent little app for creating professional slideshows.
All you have to do is start the program and give it a project name. You can add as many projects as you want, there is no limit on it.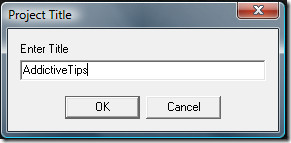 Then go ahead and select the directory containing all the photos, click Music tab and add your favorite music, and finally head over to the transitions tab to add various effects. At first look I didn't believe that it will show the previews of every transition, but it actually did this job very well. There are over 160 different transition effects, which means that you will have to spend nearly 30 minutes looking for the best transitions. Such was the case with me.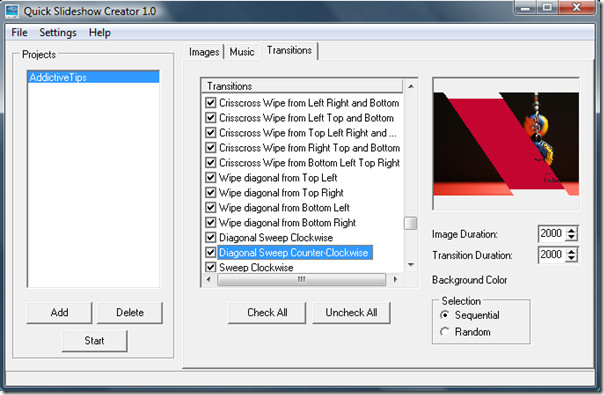 Once all is done, hit Start to begin the slideshow. Click any button to finish the slideshow. Note that you can't save the slideshows, instead only show them temporarily. If you want to save slideshows, then visit the links given in introductory paragraph.
Download Quick Slideshow Creator
It supports the following image formats – bmp, jpg, gif, png, tga, tiff, and pcx. And the following audio formats – wav and mp3. It also supports drag & drop functionality and works on all versions of Windows. Enjoy!