Free Standalone Subtitle Converter
If you have written a subtitle for a movie and your media player fails to play it, then this is because the format of your subtitle is not correct. Different media needs subtitle of different formats, this is where Easy Subtitle Converter comes in.
To view the complete list of subtitle files it supports and converts into, scroll to the end of this post. Load the subtitle that you can to convert, select the output format, and hit Start. You can batch convert the subtitles by adding as many as you want to the list.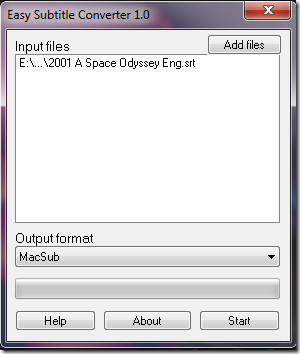 Since it is a portable tool, you can also run this simple converter from the USB flash drive. The best thing is that it takes the FPS from the movie if the video file has the same name as the subtitle file and resides in the same directory. This helps sync the output subtitle properly.
It can convert the following subtitle files:
MPL2
SubRipper
TMPlayer
MicroDVD
Dual
into the following:
MPL
MPL2
SubRipper
TMPlayer
MicroDVD
Cheetah
TurboTitler
ViPlay
SubViewer1
SubViewer2
Dual
ZeroG
StreamSubTextPlayer
StreamSubTextScript
SAMI
AdvancedSSA
MacSub
AQTitle
UleadDVDWorkshop2
After the output subtitle file has been generated it will be saved in the same directory as the source.
Download Easy Subtitle Converter
It works on all versions of Windows. Enjoy!