Free Video And Audio Converter
When you hear about a video or audio converter, what is the first thing that races to your mind? Complicated User Interface, tons of confusing options to choose from, options that you don't even know about, too many choices of encoders, complex settings, and more. If you think video/audio converter are that complicated, meet Free Video And Audio Converter.
Update: I would highly recommend giving FanVista Audio Converter a try. It is a free advanced audio converter and extractor.
It does exactly what the name says, even though we believe the name is too common and needs to be changed. So what is it? In short, it is a dead-simple tool that can convent between common video and audio formats without eating your head. It has basic features that majority of novice users are happy with.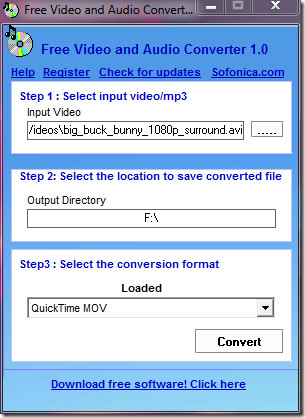 So which formats can it convert? According to the developer, it can convert VOB, FLV, MPG, AVI, MPEG, MOV, WAV, and MP3 into MP3, AVI, WAV, WMV, MPEG, FLV, MKV, RM, 3GP, 3GPP2, MOV and iPod video format.
The output quality and size can vary depending on the conversion format you have selected. For e.g, for Mp3 there are various options such as iPod Nano, Mini, Shuffle, etc.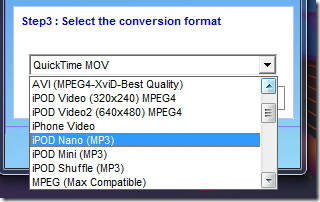 It is simple stripped-down version of media converter, but this doesn't mean that it lacks any conversion. It can even convert DVD(.vob) to any video or audio format. To see the complete list of usage along with download link, hit the link below.
Download Free Video And Audio Converter
It works on Windows XP, Windows Vista, Windows Server 2003/2008, and even Windows 7. Enjoy!