Free Video Surveillance Security System Software
Do you go out frequently on business trips or on vacations and need an elusive video surveillance over specific valuables in your home or room. As thieves are constant threats to your households and lurking everywhere trying to break-in anytime. You might not like to give them an open space for pouncing on your home and do an act of vandalism. TeboCam is a full-featured free video-surveillance system that only requires single peripheral with your system – a Webcam.
To start off with configuring its settings, get a webcam focused on anything you want to keep check on. Once placed properly, launch the application and you will see main interface having multitude of options. Webcam window can be seen on the left side and beneath that you have several Motion Alarm options.
The usage is a bit complex but interface is quite self-explanatory. Diving deep into working mechanism, it actually looks for movements in focused window and on detecting a motion it will instantly send/upload the notification along with captured images to specified email and web page respectively. You also have an option for confining the focus further by drawing the focus window yourself. It also saves history of former events so you can access them easily. Once the specific window is focused, switch to Alerts tab.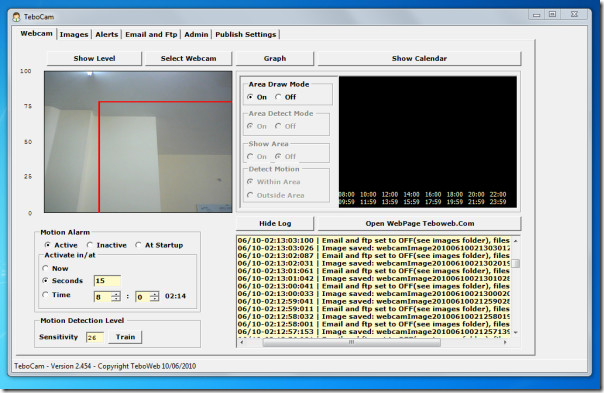 Under Alert tab, you can configure settings for how you want to be notified when it detect any movements in focused window. From Notification Settings, you can enable email option and choose either to send images as thumbnails or of full size. Under Alert Time Settings, you can change frequency of email notifications and frequency of images file updates. From Alert Filename Settings, you have options for changing image filename prefix along with other filename stamps.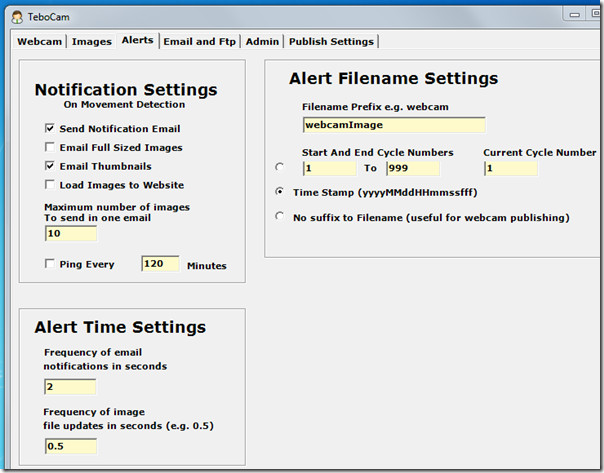 Under Email and FTP tab, you can choose email account settings and website FTP settings for sending and uploading images respectively. You can opt-in to both options concurrently. Enter the required credentials to receive notifications.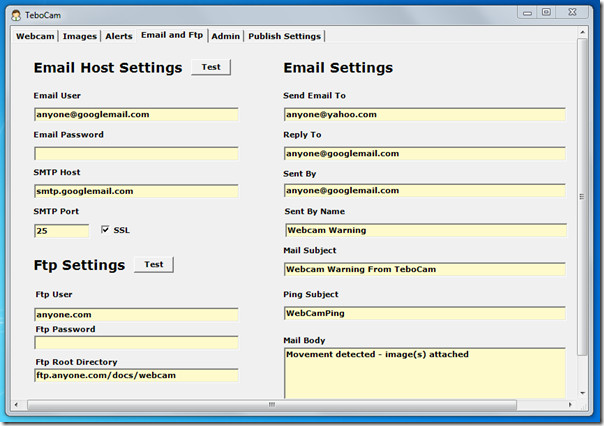 It will promptly capture sharp instantaneous images on an event of detecting movement. You can see all the previous captured images under Images tab.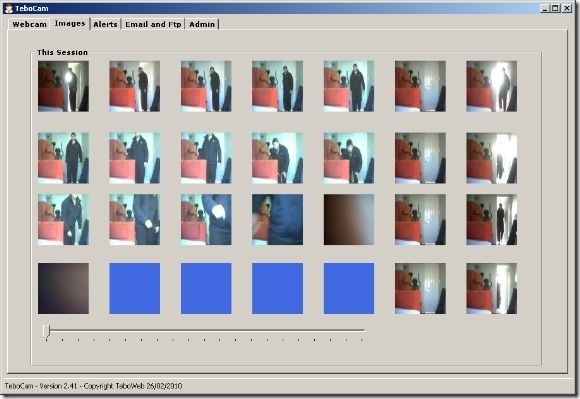 (Above screenshot by application dev)
Under Admin tab, you can configure various administrative settings and the tab adjacent to it includes numerous Publishing options including; set time duration for publishing images, adding date/time stamp to images, copy FTP settings, and toggle publish feature on/off after specific time, etc.

To put in a nutshell, it provides almost every feature to stand besides other commercial security system software available. However, it is not full-featured version yet and still in beta but the developer is leaning more towards adding extensive functionality in next version.
It runs on Windows XP, Windows Vista, and Windows 7. Testing was done on system running Windows 7 32-bit OS.