Freehand Painter: Create Vector-Based Images & Graphics With Ease
Drawing pictures is always fun and a great way to relive some of that built up stress. However, most image drawing and painting applications are so hard to control and have such a high learning curve that most people don't even try working with them. Even the simple-to-use Microsoft Paint has so many options now that it will take someone in the mood for drawing a painting a lot of time to go through all the options before they can actually begin drawing. If you are one of those people who want a simple, yet elegant, painting application for drawing simple images, give Freehand Painter a try. Basically intended for a touch screen computer, Freehand Painter also works wonderfully with a mouse and helps you create vector-based impressive paintings. It can also help you kids draw different kind of cartoons to learn fast. Don't expect some captivating designs and top-notch features, as the application is pretty conventional in a way that its meant to draw basic patterns. Keep reading to find out more about the application.
The simple interface allows you to do distraction-free painting on your computer. The drawing controls include a paint brush with changeable size (and a range of 1 to 200), an palette of beautiful colors, an eraser and lasso selection that allows you to select and move strokes around just by dragging a marquee around them. Right-clicking inside the application hides all the editing tools, giving you a full screen view of the canvas. The Eraser also have two modes, normal erase and stroke erase. The size of the brush can be changed by clicking the size icon and dragging your mouse up and down.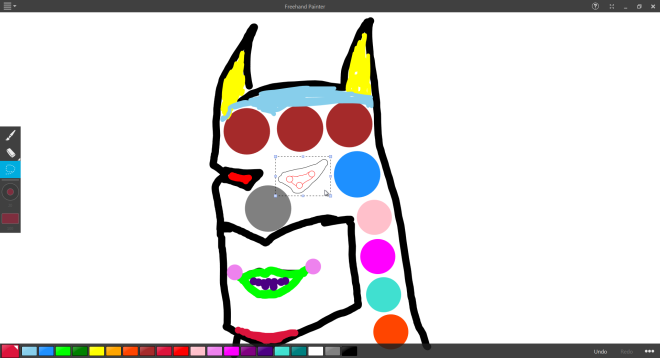 The product page boasts following features of the Freehand Painter.
Create Vector Based Graphics with ease
Gives a eye-catching hand drawn look for your creativity
Save your imagination into standard ISF Format
Export your Artwork as PNG, BMP, JPG or GIF file
View and create your artwork in full screen mode
Freehand Painter works on both 32-bit and 64-bit versions of Windows XP, Windows Vista, Windows 7 and Windows 8. Tesing was carried out on Windows 7.