Freemake Video Downloader Adds Download Queues, Speed Control & Native iPad Conversion
Although video streaming is not something new, bringing it to mainstream by (the now-Google-owned) YouTube was nothing short of a tour de force. The company executed a brilliant idea of how we can share multimedia content with other folks around the globe. Back in July 2010, we covered an incredibly useful software that downloads video streams for offline viewing. Labeled Freemake Video Downloader, the application would let you instantly download videos from plentiful video streaming websites. The application packs some punchier features, such as one click download, video conversion to other formats, eye candy interface and so on, which makes it one of the best streaming media downloaders around. It's been quite a while since we first reviewed it, and it has come a long way since then, introducing new options and bug fixes with incremental updates. The developers recently let out another updated version (3.1) of Video Downloader, which has added some promising new features (some which I had always craved for). A quick look at the change log and thorough testing revealed the following additions.
During installation, Freemake Video Downloader tries to install TuneUp Utilities 2012 along with the main package. You can however decline the offer by unchecking it during the setup process.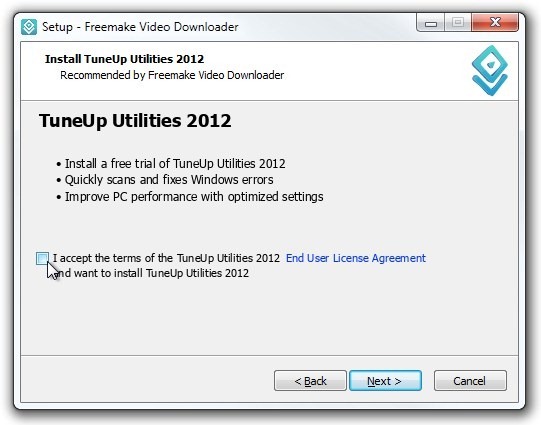 The application now has a new download speed control feature, which limits the amount of internet bandwidth to be utilized during the downloading. It's a pretty handsome feature for people with slower internet connections who want to do other bandwidth intensive tasks in conjunction. At the lower left of the application window, clicking the Unlimited button gives you speed control options, comprising of some predefined parameters that you can set.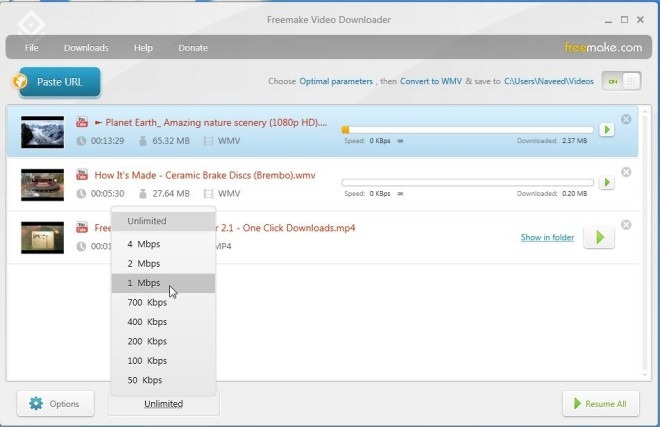 The application also now converts videos to WMV (Windows Media Video) format. In addition, it provides conversion preset for iPad and iPad 2 optimized formats. The downloader also exports the converted videos directly to iTunes, making it easier to send them to your iDevice, should you own one. The overall process of moving videos to your device becomes quite shorter by cutting away a few additional steps.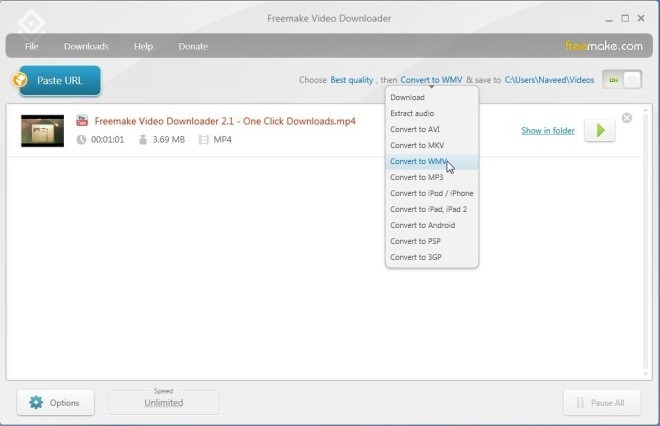 Folks who download multiple videos at the same time would be glad to learn about the new download queue feature. You can prioritize the download process of each video by dragging it up and down across the list. Videos on top have a higher priority than those at the bottom.
Users can also set the total number items that should be downloaded simultaneously. This setting is available under the Connection tab in the Options console.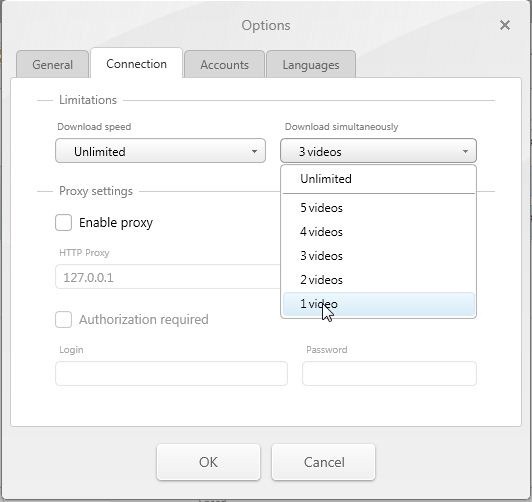 Freemake Video Downloader works on all versions of Windows. Testing was carried out on Windows 7 Ultimate, 64-bit.
Download Freemake Video Downloader