Watch 90+ Free Streaming TV Channels On Your Desktop via gE3k TV
gE3k TV is a free TV streaming application that claims to broadcast more than 90 channels in different categories, such as News, Education, Music, Sports, Religion, Movies and Kids. Though the application makes for a fine choice, given its small size and the large number of TV channels that it offers, however, not all listed TV channels function properly.
It offers a very simple interface. You will see a small screen with channel category and channel options given at the bottom. Simply browse through any category and then select a channel. Click Play button to start watching the streaming TV.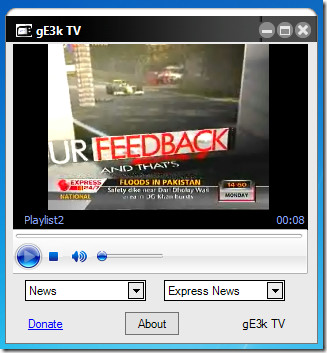 The application does not offer any particular option to resize the application window. As such, users are bound to watch TV on the default, small-sized window. Additionally, not all TV channels offered on this application are available for streaming.
It runs on Windows XP, Windows Vista, and Windows 7, testing was carried out on Windows 7 x86 system