GeeMail Is Offline Gmail Desktop Email Client
If you're a heavy user of Gmail and hate using email clients that may, sometimes, take forever to download emails and sync other mail folders, GeeMail is the best option for you. It's a tiny Adobe-Air based app which brings Gmail to your desktop with all the essential features present in Gmail. The most noteworthy aspect of GeeMail is its ability to auto-schedule offline messages. For instance, you can compose emails in an absence of internet connection and it will automatically send the composed email when it finds internet connectivity. This enables queuing messages which are to be sent to different recipients without having to configure any scheduling options. Contrasting to email clients, which requires detailed information in order to configure email service account, it takes nothing more than Gmail login details to view and compose emails in both modes – online and offline. The offline mode not only lets you compose mails, but you can also navigate through downloaded messages and other folder items.
GeeMail interface is quite similar to original Gmail UI, with same elements present in main navigation bar. To compose mail, click respective button present above navigation bar, enter recipient address, subject, and email body text followed by a click on Send. As stated earlier, it automatically schedules sending emails in offline mode without having to set up any offline scheduling options.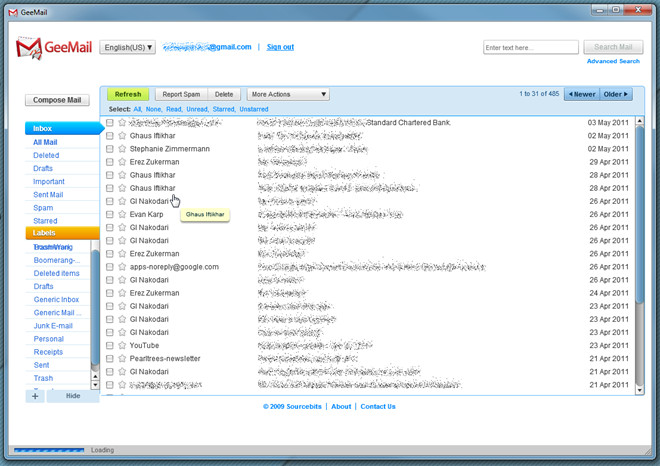 GeeMail provides a great utility of sending emails in offline mode and will come immensely useful for those who need to compose email messages in bulk and send them later. It works on Windows, Mac, and Linux, provided you have Adobe Air installed.