Generate Secure & Safe Passwords With PWGen
In the world of digital data and security, passwords play one most critical and important role. Your entire privacy, your data security, your secrecy and anonymity mostly is defined by the strength (or weakness) of your password. Most people prefer to use simple, easy to remember passwords, without considering that these are generally the easiest ones to break. Also, if you use the same password for everything, you're again compromising yourself.
With excellent browser extensions like LastPass, the need to remember passwords is generally eliminated. Thus, using cryptic, complicated passwords automatically becomes a viable option, since there is no brainwork involved. PWGen, a free, open-source tool, does the task for you, generating highly complex, random and unbreakable passwords from a predefined criteria.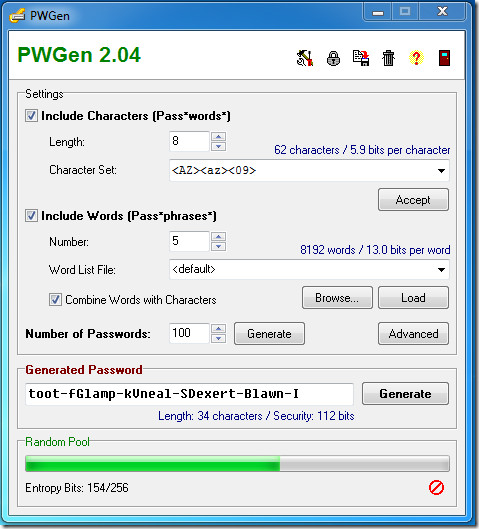 You can choose to have the password containing only alphanumeric characters, or entire words (passphrases) based on a preloaded word list. You may load your own word list files as well, in case you don't to use the default one. The generated passwords can also be a combination of characters and words, as shows in the screenshot above.
The advanced settings lets you control more elements of how the generated passwords would appear.
PWGen sits in the system-tray and comes highly useful if you're concerned about security and want a handy tool to take care of your passwords. It is not a password manager; please be clear on that. It can only generate those passwords for you, but its up to you how you want to use them.
PWGen runs on all 32-bit versions of Windows, including Windows 7.