Get A Clean Yet Complete YouTube Experience On Windows 8 With Hyper
In the world of online video-sharing, content is king, but aesthetics aren't a pawn either. YouTube may be the world's premier video-streaming website, but it's not necessarily the world's best-designed one. We've covered a good many facemasks for YouTube before, some with real potential like Toogles and Cinetonic. Windows 8 users have it even better, cherry-picking their favorite from great-looking options like PrimeTube, MetroTube, and now, Hyper. This latest Windows Store YouTube app has at least two factors going in its favor: one, its generous, unapologetic emphasis on the viewing experience, and two, that you can sign in with your YouTube account, subscribe to different channels, access your uploaded videos, and customize the app's home screen.
Okay, let's get a-viewing! Upon launching Hyper, you'll land on its homescreen, which overviews YouTube's frontpage videos in three broad categories: 'Most popular', 'Top favorites' and, if you're logged in your user account, 'Newest subscriptions'. You can even pin your favorite channels to the Start Screen for instant access.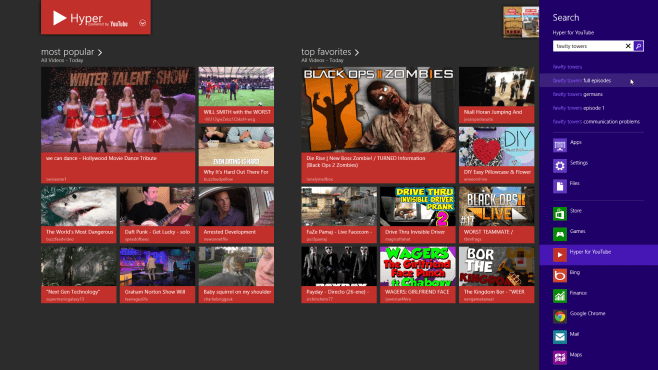 Hyper's search, à la MetroTube, is definitely a winning feature. Just simply start typing for the video you want to watch, and the search panel will automatically open on the right, with the most relevant entries listed below the text field. Hit enter and you'll be taken to the search results screen where you can scroll through numerous YouTube recommendations tiled out in an eye-pleasing mosaic.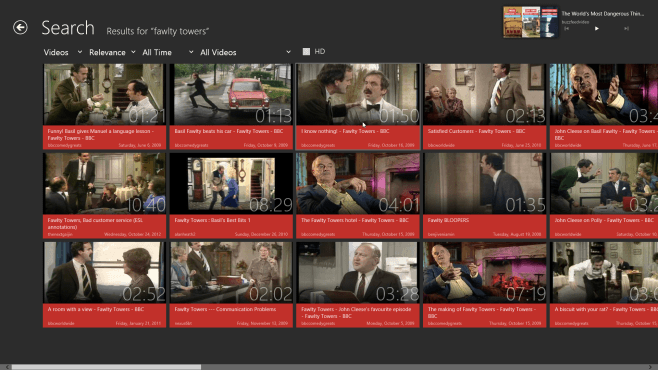 Toward the top, you'll see some filtering options that allow you to further fine-tune your search results. You can, for instance, choose between loading relevant or popular and newer or older results for your search query. A drop-down menu lets you narrow down the videos by categories like 'Comedy', 'Music', 'News', 'Games', etc. You can even filter out all low or standard definition videos by checking the 'HD' checkbox.
To watch a video, just click its tile. It'll start playing in fullscreen by default.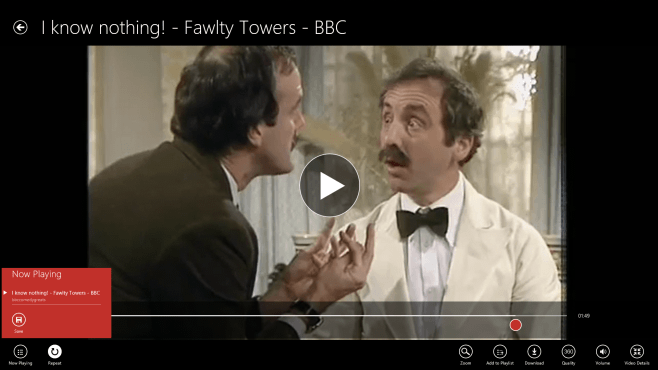 The main playback controls are pretty standard for what you'd expect in a YouTube app. From the left, you can can set the video to repeat, see which video is currently playing video using the 'Now Playing' button, and even save it to a new or existing playlist if you are signed into your account.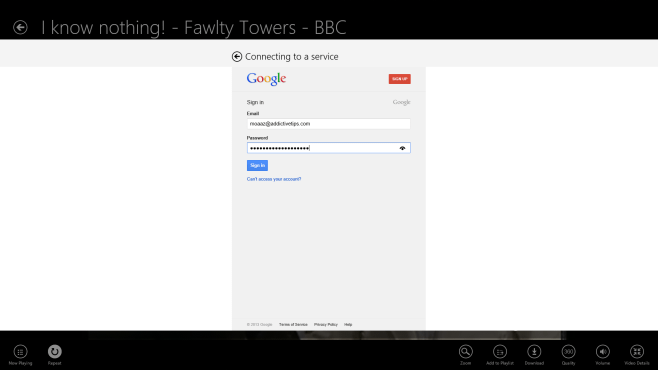 From the right, you can zoom in and out of the video, add it to your playlist, switch between SD, 720p and Full HD 1080p resolutions with the 'Quality' button, change its volume, and download the video in any of the available formats. (Do make sure it isn't protected by copyright restrictions, as per Google's guidelines.)
The developers at Hyper felt it better to separate video playback from viewing its details. The 'Video Details' will take you there.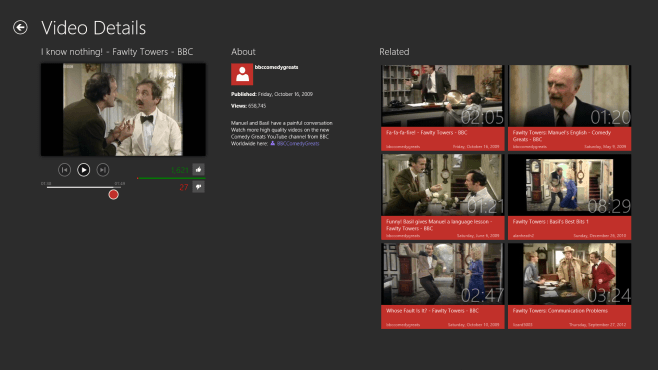 You can continue watching it from the panel on the left, or browse the standard YouTube information about the video, such as its when was it published, the number of views, comments and so forth.
To access the settings panel, click the arrow on the Hyper title banner on the app's home screen. You can also review your watch history or sign in from here.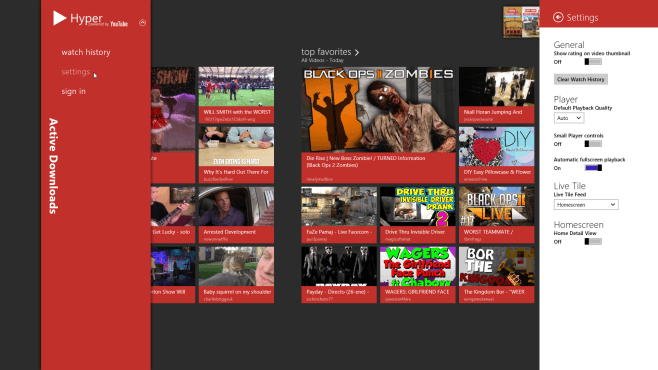 The 'Settings' charms bar will slide out on the right-hand side. Under 'General', you can choose whether you want to see rating information on videos' thumbnail displays or not, and clear your watch history. From the 'Player' drop-down menu, you can select the default quality you want every video to start with. You can also switch from large media player buttons to small ones here, and turn the automatic full screen playback function off.
Additional perks include playing videos in the background, using Windows 8's snap-view to multi-task while viewing a video and finally, view artist metadata for tagged music videos.
The app supports English, German, French, Russian, Portuguese (Brazil) and Chinese (Traditional), and can run on both Windows 8 and Windows RT devices.
Install Hyper From Windows Store