Quickly Search For Definitions With TheFreeDictionary For Windows 8
Just like all the other material published on paper, dictionaries too are losing their importance in our book shelfs. Nowadays, people use the internet to find out the meaning of new words. Gone are the days when you had to flip through pages to look for a particular word; just type the word and press Enter to quickly read its meaning and usage. If you use Google's search to look up a word, you don't even have to open a websites. The basic meaning , and a small definition of the word pops up directly on results page. However, dictionaries have not lost their importance completely. Instead, they have evolved with time to cater the needs of online users. There are lots of websites available that offer you a lot more than just the meaning of a word. Now, along with the meaning, you can view its synonyms, antonyms, related words, thesaurus, pronunciation in American and British accent, Translation etc. Whenever a new platform comes out, digital dictionary apps are one of the first ones to appear. Likewise, there are also a lot of dictionary apps available for Windows 8. Today, a third party app for TheFreeDictionary.com is available for Windows 8 users. Searches can be performed instantly and the meaning, usage, alterations (if available), thesaurus and translation into several languages can be viewed in the results.
To get the Dictionary.com app, go to Windows Store and search for "dictionary.com". From the search results, look for the tile named "Dictionary." and click to access its Windows Store page.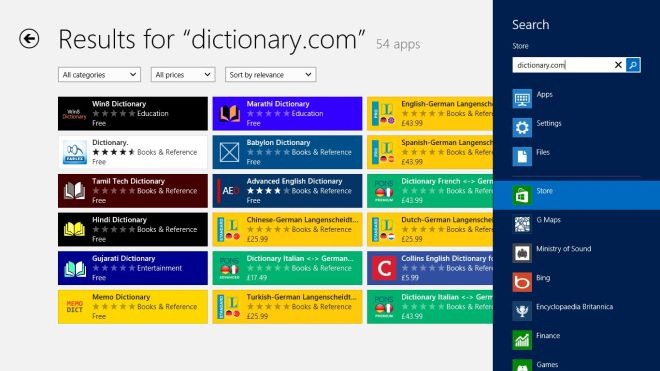 Click the Install button to automatically download and install the app on your device.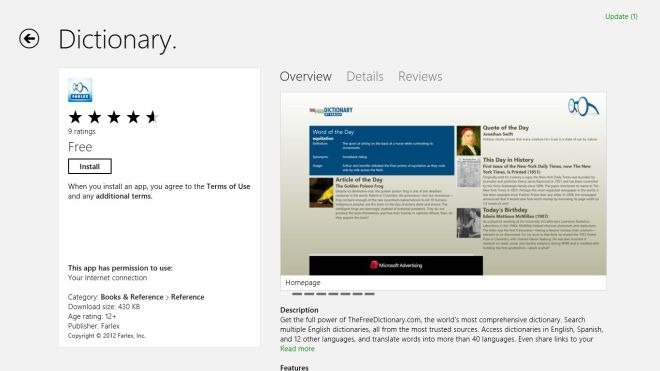 The main interface of the application features the Word of the Day, Article of the Day, Quote of the Day, This Day in History, and Today's Birthday sections. This way, even if you don't have to search for a word, the app constantly keeps you informed about interesting new information and facts.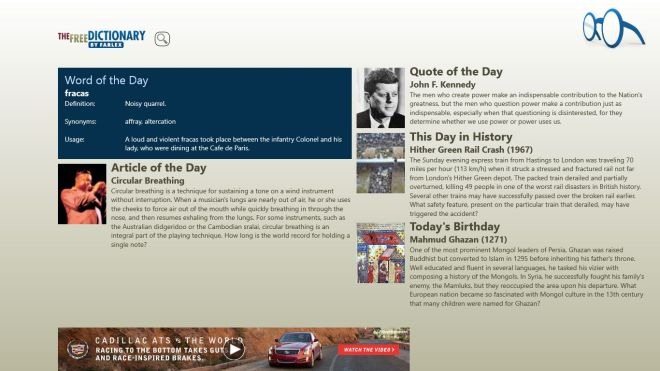 To search for a word, either click the Search icon on the top left side, or press the Win+Q hotkey on your keyboard to bring up the Search Charms. Each word is displayed in a separate page, with its meaning, origin, usage, thesaurus, and translation. The app lets you translate the word into a number of different languages.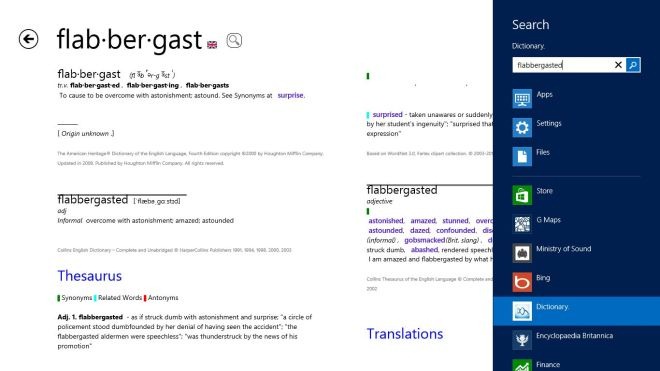 Pressing Win+I opens the Settings Charms. The Dictionary Settings option allows you to set the default language for the dictionary. You can change it to Arabic, English, French, German, Russian, Spanish etc.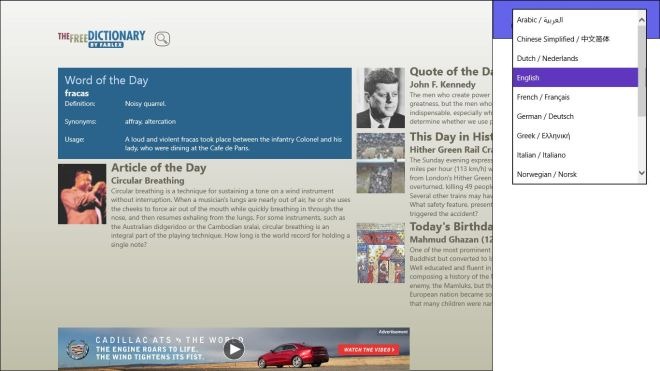 Even though, the app is very useful right now, there are still a lot of features that can be added to make it better. For instance, it does not have a pronunciation feature. Moreover, if you enter wrong spellings for a word, it does not list the related words. Dictionary. app works on both 32-bit and 64-bit versions of Windows 8.
Get TheFreeDictionary.com app from Windows Store