Receive Email Alerts With Screenshots When Apps & Services On Your PC Start Or Stop
Have you ever been worried about what's been running on your PC in your absence? Don't want your kids to play video games all day? Process Notifier is probably what you need. This well-thought Windows application is designed to keep an eye on multiple processes on your computer, and notify you via email when a process such as an application like Google Chrome or Firefox starts or stops. The tool scans and monitors the selected processes according to the time interval defined by the user ranging from ten minutes to a day. This can come really handy if you have to share your PC with others and want to keep a tab on their activities while you're not around.
Process Notifier quietly runs in the background and sits in the system tray keeping a low profile. The right-click context menu lets you configure the tool according to your preferences. For instance you can toggle its tray tip and email notifications, text log, and startup behavior. Similarly, you can change the automatic scan interval and pause the monitoring temporarily. To receive email notifications regarding the monitored processes, you must first configure your email address with the program.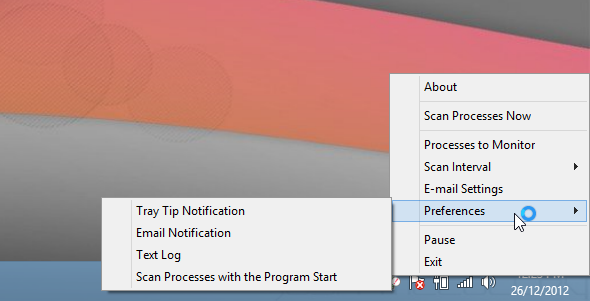 Select E-mail Settings from context menu and enter your email address under the Message tab. You can also customize the message body as well as subject of the email, like 'Chrome executed' or 'Process Stopped', etc. Likewise, you can choose to enable screenshot attachments as well.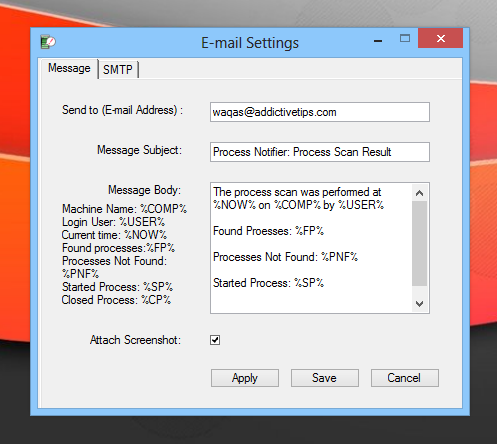 The tool uses its built-in SMTP server in order to generate the email notifications, but should you be facing any issues with the default server, you may configure your own SMTP server by entering the required details i.e. the SMTP server address, port, and the the sender's email address and password. After providing the details, just hit Apply and Save buttons.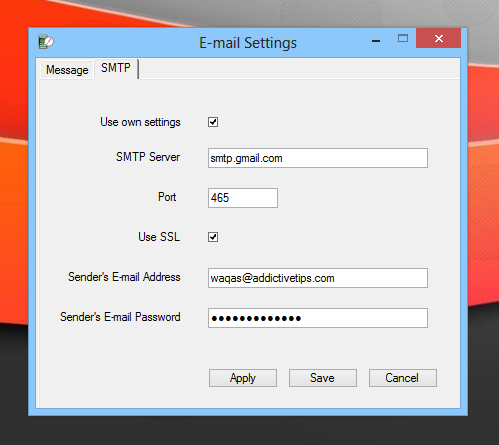 You can add any process in the Process Monitor window and the tool will instantly start monitoring it, depending on your chosen action. After entering the process name, select the notifying behavior from the drop down menu. You can choose among Not Found, Found, Started and Closed actions. In addition, you can specify a program or file to execute when the selected action is triggered. Once everything is in place, click Add followed by Save. You can add multiple processes to monitor by following the aforementioned procedure for each one of them.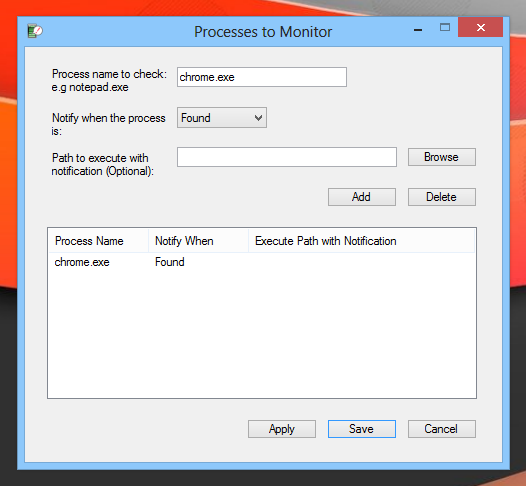 During testing, I gave Google Chrome browser a shot and the application didn't have any issue with recognizing the process and notifying me over the email, along with screenshots
Process Notifier works on both 32 and 64-bit versions of Windows XP, Windows Vista, Windows 7 and Windows 8.