Get Full Control Over Windows Services With SrvMan
So you want to perform common tasks related to Windows services such as create new services, delete existing services, or change service configuration without restarting the system? SrvMan can help. It is a small useful portable utility that comes with both Graphical Interface and Command Line mode. It can create both Win32 and Legacy Driver services. According to the developer, it can also be used to run arbitrary Win32 applications as services (when such service is stopped, main application window is closed automatically).
Note: This software is for advanced Windows users only, deleting an important service can lead to system crash.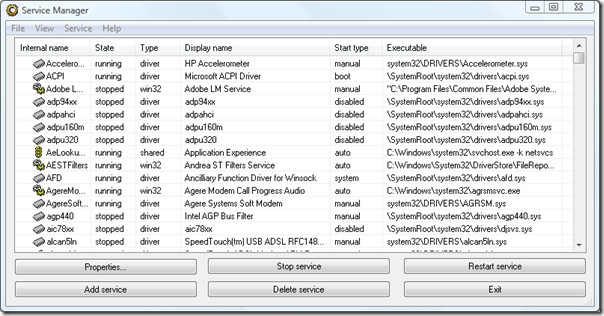 Click the image above to enlarge
The options you will find on the main window are Add service, Stop service, Delete service, and Restart service. You can also go to Properties and change Service type and Start mode.

It works on both 32 and 64-bit version of Windows.
Enjoy!