Get Global Text Expansion & Autocorrect In Windows With WordExpander
The AutoCorrect feature in Word is probably the most used overlooked part of MS Office, with many people taking it for granted. The time it saves by automatically correcting those typos that we make in a hurry is priceless, and the absence of such a great feature across other apps or Windows' own text editors is lamentable. I wish almost all text editors included such a feature out of the box. The good news is, software like WordExpander can bring this functionality to almost every app you can think of, and that too without costing you a dime. The application appears to have been developed with Medical Transcription in mind, but can work perfectly for general purpose word expansion and auto-correct as well. No matter if it's a note-taking utility or a more powerful text editor, WordExpander supports almost every app out there.
WordExpander boasts a nice-looking Ribbon-based UI. It sports both AutoCorrect and AutoText features of Word, both of which can be enabled / disabled on the fly. When launched, you will notice that the app doesn't contain any predefined phrases or auto correction words, and this is probably the only caveat about this wonderful app. Though it can be easily taken care of by manually importing the replacement libraries of words or phrases through a TXT or a CSV file, many of which are available for quickly adding to the app.
The application even allows importing libraries for multiple types of categories, such as phrases or words related to Business, Mathematics, Medical or English etc. To download a new words library, you can click the Download Libraries button on the toolbar.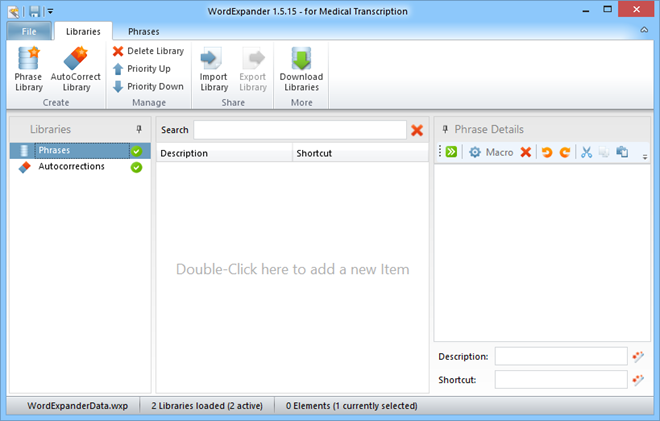 The download link (which opens up in browser) takes you to WordExpander's library page. As of this writing, the library collection consists of medical phrases, words and terms, drug names, biotechnological words, and English auto-corrections. If you're wondering how to download and import the required items in the app, let's show you how.
Simply click the required item from the list, which opens up a list of phrases or words in the proceeding page. Copy this entire list, paste it into Notepad, and then save the file either as TXT or CSV.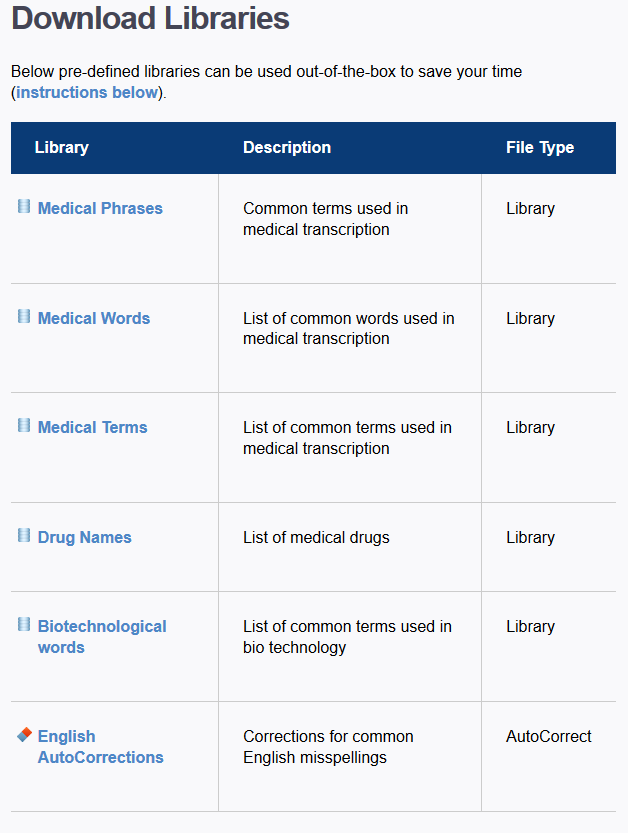 Open WordExpander and click Import Library on the toolbar. Now simply select the Notepad file you just created, and you're done! The selected items will be instantly imported into WordExpander under the selected library. The application allows prioritize the items, as well as letting you export the selected library after you have made any changes to it.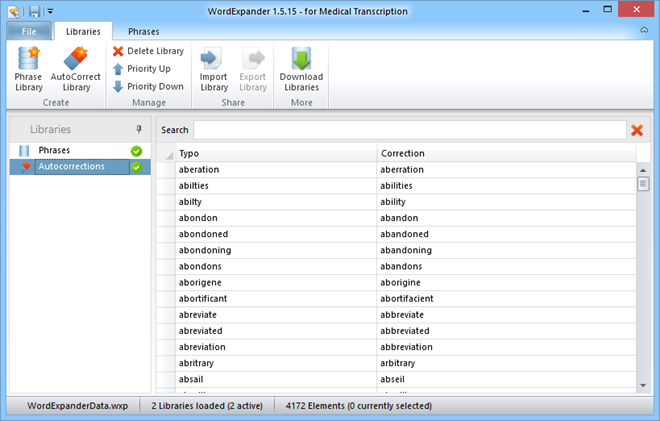 To sum it up, WordExpander is a pretty handy tool for making the task of word correction and expansion simple. It works on Windows XP, Windows Vista, Windows 7 and Windows 8, and you can download it as well as its available libraries for free.