Get Latest Alerts From Your GMail And Twitter Accounts With Up2Date
So you want to keep tab of multiple Gmail and Twitter accounts from your Windows desktop? Up2Date will do that for you. It is a free desktop notification tool that will alert you on the latest updates from your multiple Gmail/Twitter accounts and RSS feeds. In other words, it is a combination of Gmail, Twitter, and RSS reader.
Just click on their respective icons, give it a name, enter the account details, and select the refresh rate and it will become active instantly. You can also pause the notifications temporarily by clicking the Pause icon.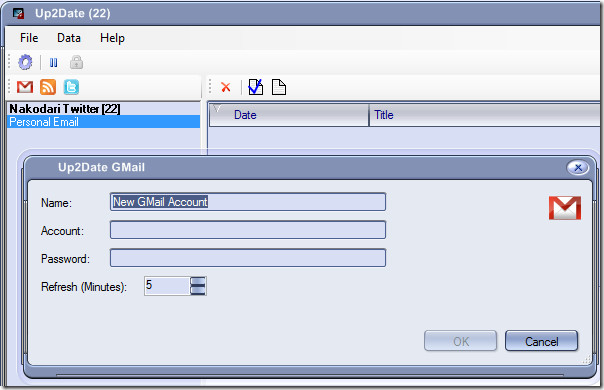 Once you have added all the accounts, a balloon notification will alert you about new messages, tweets, and updates. It also includes a lock/unlock and import/export feature that can come handy anytime.

It is not a must-have tool, but can come useful for those looking to manage all their accounts from one place. The software is still in it's early version, a lot of work still needs to be done to make it more mainstream.
Enjoy!