How to get more items on the jump list on Windows 10
When you right-click an app icon on the taskbar, you get a list of actions that you can perform and a list of recent files or locations that you visited in the app. The options shown in this list, known as the jump list, differ based on the app. File Explorer will show you recent folders or drives but Chrome will show you recent/frequent websites. What they both have in common is the number of items they can show in this list of recent items which is 6. If you need more items on the jump list, you can get them by editing the Windows registry.
More items on jump list
To add more items on the jump list, you need to edit the Windows registry which means you need admin rights on your system.
Open the run box with the Win+R keyboard shortcut. In the run box, type 'regedit' and tap enter. If you're not the admin user, you will need to authenticate with the admin username and password to continue. Once the registry is open, navigate to the following location;
HKEY_LOCAL_MACHINE\SOFTWARE\Microsoft\Windows\CurrentVersion\Explorer\Advanced
There should be a key called JumpListItems_Maximum in the panel on the right. If the key isn't there, you're going to have to create it yourself.
To create the key, right-click the Advanced key and select New>DWORD (32-bit) value. Name it JumpListItems_Maximum.
Now that you have the key, double-click it and set its value to anything above 10. Close the registry editor and restart File Explorer.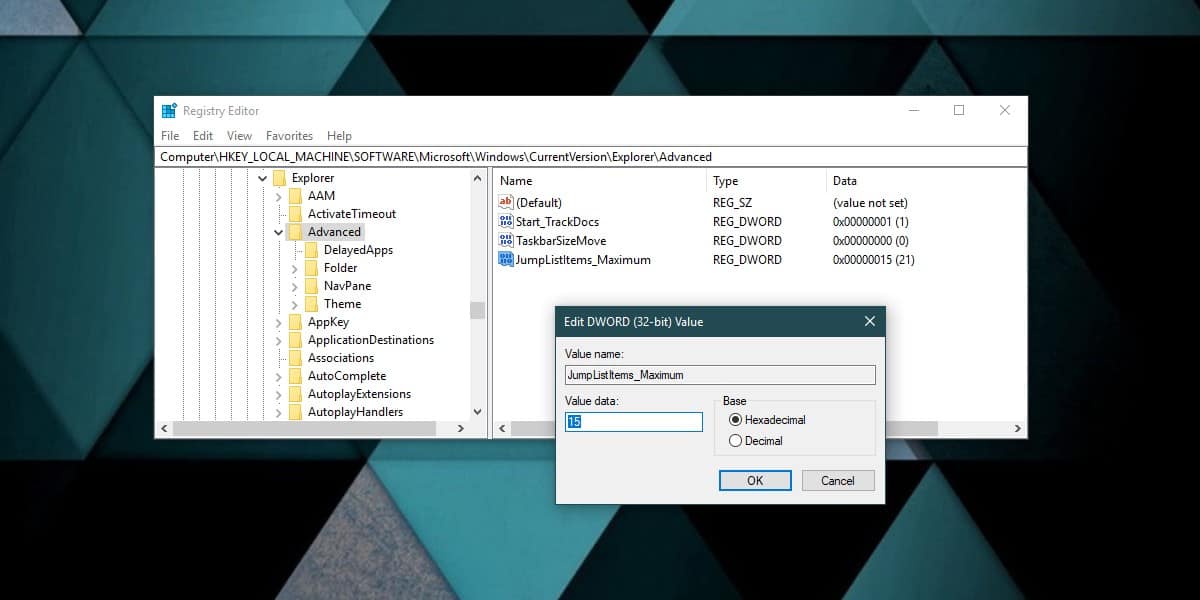 To restart File Explorer, open the Task Manager and look for Windows Explorer on the Processes tab. Select it, and click the Restart button at the bottom right. Once File Explorer restarts, right-click an app and you will see more options in the jump list than you normally do.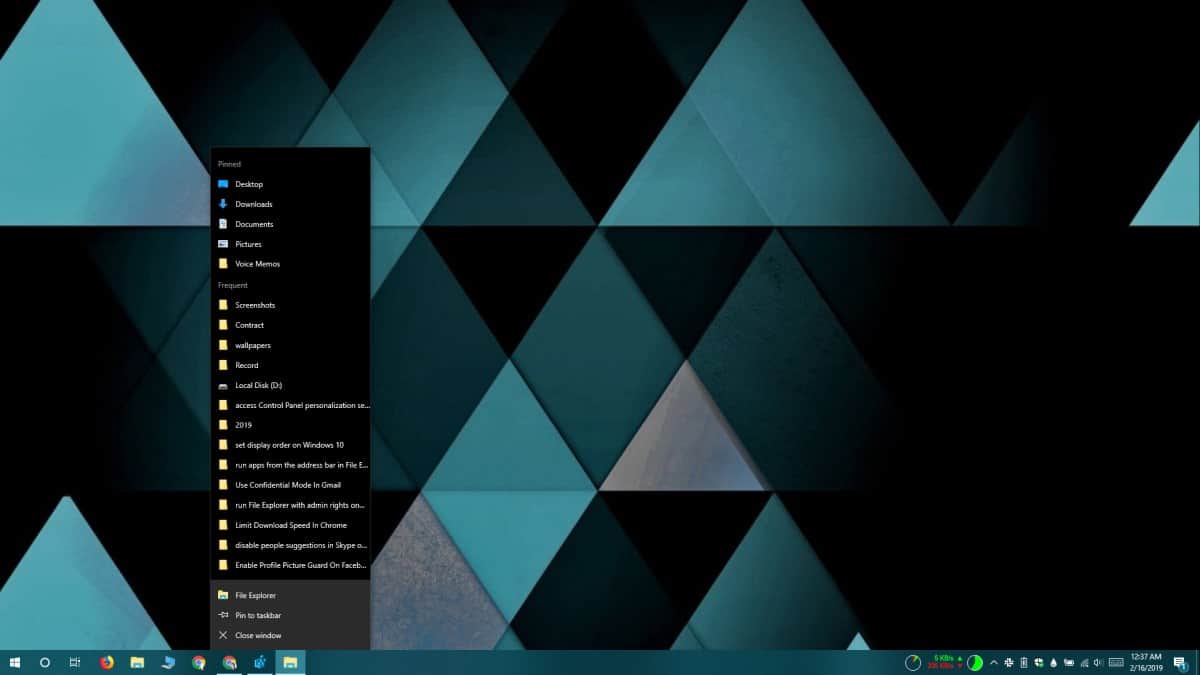 For some apps, this change may only be applied after you've accessed additional items/files/locations after making the change to the registry. This is because the app may not be storing additional items since it cannot display them. File Explorer will start showing them right away because it does keep track of your recently visited locations. The same goes for most Microsoft apps such the Office apps, or the stock Windows apps like Notepad or Photos.
If an app doesn't support jump lists, then this change in the registry will not add it. Jump lists are supported by most apps but there will always be exceptions. The stock Windows UWP apps support them though you will find that not many third-party UWP apps do.