Brothersoft Updater: Get Push Notifications For Outdated Windows Apps When Updates Are Available
Earlier in June, I reviewed an application update notifier for Windows called AutoUP, which would track and update outdated programs, and let you download & install some widely popular free applications, right from your desktop. The application was darn good, and contained numerous additional features as well. Apparently not everyone wants a software bloated with more options that they actually need. If it is only an application updater you want, then have a look at Brothersoft Updater. It doesn't automatically update the programs, and you'd need to manually complete the said operation, but its scanning engine is quite efficient, and is designed to notify you about most of your apps (it effectively scanned all the installed programs during testing, to say the least). You may either manually scan for updates or specify time intervals after which the application would automatically push update notifications. Coupled with an intuitive UI, it's quite easy to use, and quietly sits at your system tray and keeps monitoring for updates.
When I installed and began testing the software, it automatically started to scan all the installed applications upon initial launch. The interface looks clean, and meticulously list downs the installed programs on your computer. It lets you know of the total number of programs installed and those that have an update available. Moreover, it also lets you know about the time since the last scan. Should you need to, you may click the Rescan button at the top right corner to recommence the scanning process. The listed applications are presented with their name and current version.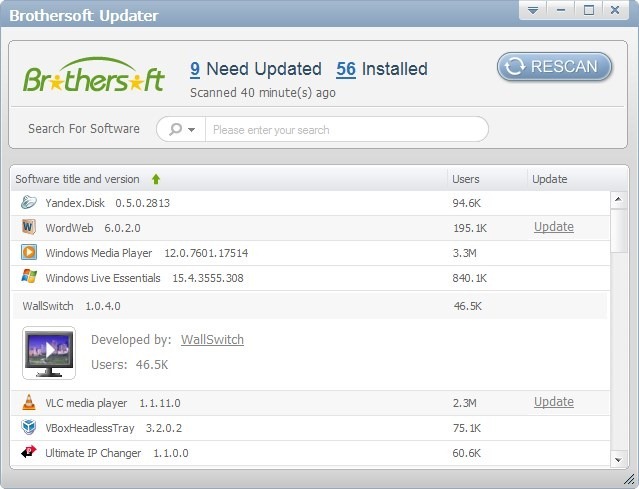 To update a utility or an application, select it from the list and click Update Now button. The Updater will redirect you to its download page, from where you can manually download the latest version. It's quite disappointing to find that it doesn't instantly begins the update process, a feature which other similar tools provide. Furthermore, it also lacks a batch update option and it can be an annoyance to individually update a large group of applications. On the bright side, however, there's also an integrated search bar that aims to help you to search and download an application without opening your web browser.
Another handsome feature is the push notifications that appear alongside the system tray. The notification tells you about the outdated software and you can click View More to quickly jump to the download page.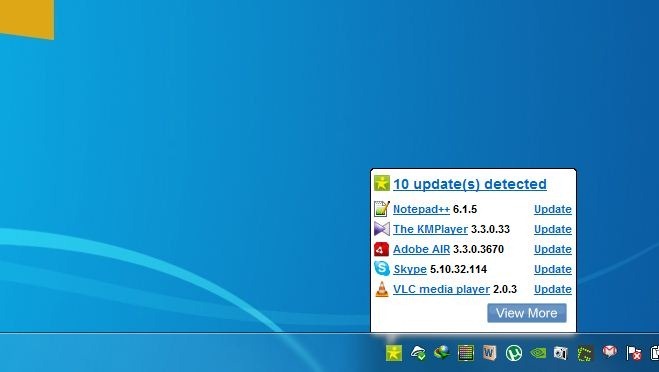 You can right click its notification icon to bring up the context menu, from where you can check for updates of your software, along with the tool itself, open the main window, and access the Settings console.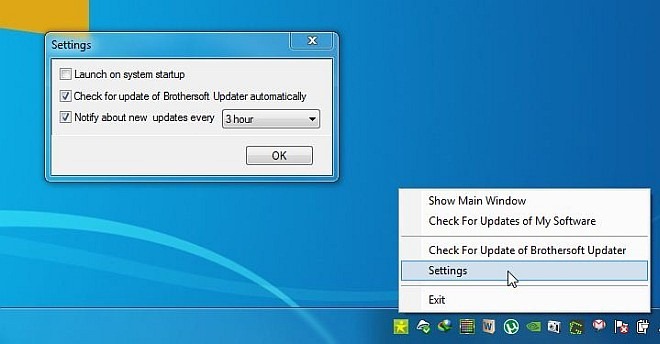 Despite a few shortcomings, such as no instant download and install option, and lack of batch download, Brothersoft Updater is an excellent program. It's lightweight and will surely claim its place on your PC, should you like updating your software manually. It works on both 32-bit and 64-bit versions of Windows.