How To Get Rid Of The "Help Improve It" Message In Firefox
Firefox, like all modern web browsers collects telemetry data. It also collects a health report and information on when the browser crashes. Users have the option opt out of sharing this data. Mozilla has gotten slightly pushy about collecting telemetry data though. If you're seeing the "Help improve it" message in Firefox a lot, it's because Mozilla has added an add-on called Firefox Pioneer to your browser. You can uninstall this add-on but to be on the safe side, you should also tell Firefox not to install stuff in the browser without asking you.
Uninstall Firefox Pioneer
Go to the add-on manager by typing about:addons in the address bar or, tap the Ctrl+Shift+A keyboard shortcut. Look for an add-on called Firefox Pioneer. Click the 'Remove' button to get rid of the add-on and the "Help improve it" message in Firefox.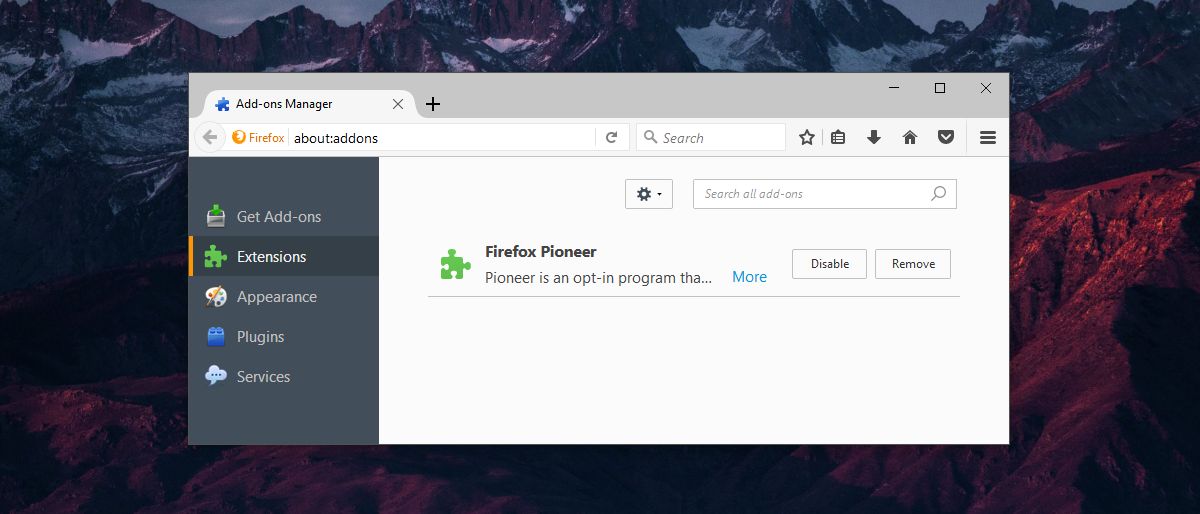 Stop Firefox From Installing Add-ons
Now that you've removed the add-on that was constantly asking you to share telemetry data, you need to stop Firefox from installing something like that again. Go to Firefox's options and select the Privacy & Security tab. Alternatively, type this in the address bar "about:preferences#privacy" and tap Enter.
Scroll down to the Firefox Data Collection and Use section and uncheck the "Allow Firefox to install and run studies". This permission, if granted, is what allows Firefox to install add-ons. It doesn't explicitly tell you that it will install an add-on but given Firefox is a browser and not an OS, and add-on is really all it can install.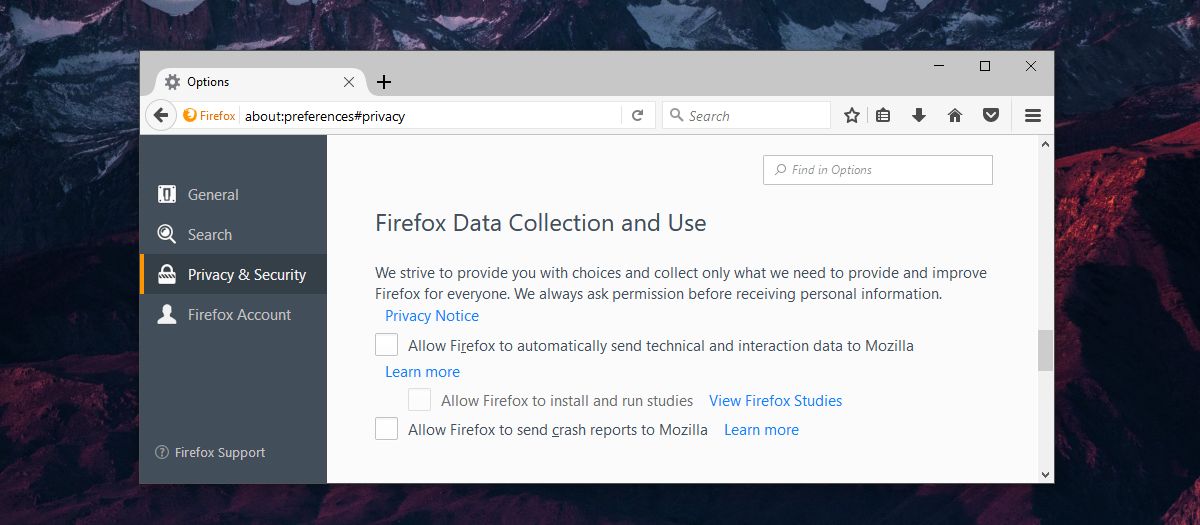 Collecting Telemetry
Collecting data to improve a product is nothing new. In fact, Windows 10 gained undeserved notoriety over it because it didn't ask users to opt-in. Firefox does ask you to opt-in so chances are that you decided to share telemetry data and  Firefox assumed it was okay to install an add-on to that end. Opting out is easy enough though so if this isn't what you signed up for, you can remove the add-on and prevent it from installing again.
All that said, telemetry data and collecting it isn't as bad as people make it out to be. For example, the telemetry data that Windows 10 collects helps users check if an app is compatible with Windows 10. The data isn't personally identifiable and it really is collected to improve the product you're using. It's also worth mentioning that Mozilla isn't an evil corporation trying to turn a profit at the cost of privacy. As far as modern browsers go, Firefox is a good, secure browser that doesn't share or leak your information.