ServiceTray: Get Start/Stop Alerts For Any Windows Service & Monitor Its CPU/RAM Usage
If you're using an application on Windows that requires a special service to run and perform the required operations, then you may want to monitor the service as long as you use that application or Windows is running. In contrast to an application, Windows service is basically a program which is designed to run silently in background without any user's interference. Therefore, it becomes quite tedious to open Windows Task Manger just to check whether a specific service is running or not. ServiceTray is a miniscule application that operates from system tray, allowing users to keep an eye on specified service all the time. Not only does it keep you updated with current status of service, it also lets you start/restart and stop the service from system tray with a few clicks.
Moreover, it lets you quickly open Windows Services console and view events from Event Viewer. You can also bring up details of the service, which include PID (process ID), Session, Memory & CPU usage, Start time, total active duration.
Perhaps, the most useful feature is that it allows you to pick the dynamic icon to check the current status of the specified service. When you install the application, it brings up configuration console to let you choose the service indicator, app start behavior, and service to be monitored. Hitting Create Shortcut will create a shortcut on desktop for starting service monitoring process.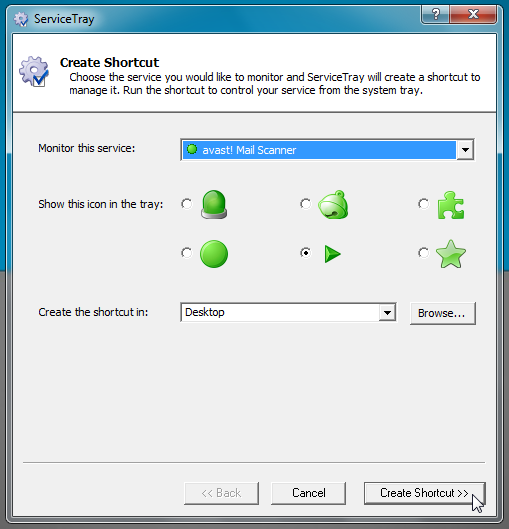 When the specified service stops unexpectedly, it immediately notifies you about it.

You can right-click system tray icon to restart and stop the service, switch between sessions, view service details, access Windows native tools related to service management, including Services, Task Manager and Event Viewer.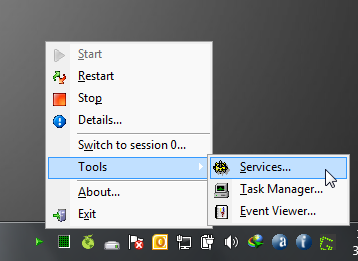 For those who aren't familiar with Windows native Service management console, it's basically a utility that allows you to set permanent behavior of installed services. For instance, if you're monitoring a service, which automatically starts itself and perform certain operations, then you can use Service console to set permanent launch behavior of the service.
To view the details of the specified service, select Details from system tray menu. It will show all aforementioned details about the service in a separate dialog.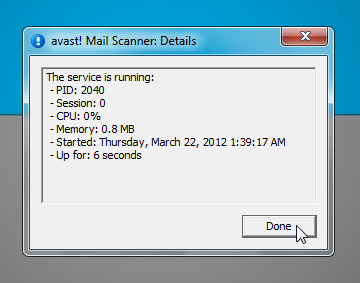 The application will come useful for those who often want to keep tabs on important services. It not only helps user check if the specified service is active or not, it also measures the total system resource usage. ServiceTray works on Windows XP, Windows Vista, Windows 7 and Windows 8. Testing was done on Windows 7 Ultimate, 64-bit edition.