GetFolder: Export File/Directory List Inside Active Directory
GetFolder is a freeware portable application which lets you create the list of files and folders within any particular directory. This list can then be exported to various different formats, like XML, HTML, CSV, TXT.
Hit the Select Folder option to browse and select a folder, once the folder is selected you will find all of its files listed in the Grid control below. Hit the Save list as option and choose the type in which you wish to save the list. If the Show sub folder check box is checked then the subfolders (if any) are also displayed  in the grid control.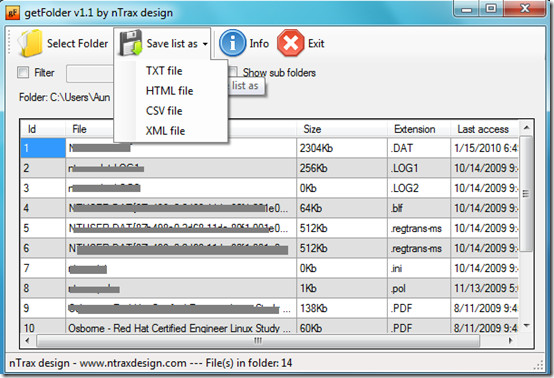 Apart from the file name, information such as size, extensions, and last accessed date are also given.
It works on Microsoft Windows XP, Windows Vista, Windows 7 and Windows 2003/2008 Server.