GinoPlayer – Desktop Music Player To Stream And Download Over 40 Million Songs
The downside of online music and radio stations is that they rely on their native service without supporting other online services, and thus offer very limited music collection to search from. Secondly, most of them don't allow you to download the music tracks. Today, we have an awesome desktop audio player for you, called GinoPlayer. It fetches music files from multiple online resources, providing the utility of streaming music from over 40 million songs. Aside from streaming music on desktop, GinoPlayer also lets you download songs to any local location. You can bookmark songs, search for specific artist to create temporary playlist and play them in shuffle mode. If you're not satisfied with primary search results against your keywords, you can reinforce advance search by listing down more songs from different online music resources.
With minimalistic UI, it encourages you to start the music search right away. Just feed it with artist name or song title to begin the search. The search results are shown in main window while options to toggle favorites view, auto-play next song in the list, randomize list, and show more songs are shown in right sidebar.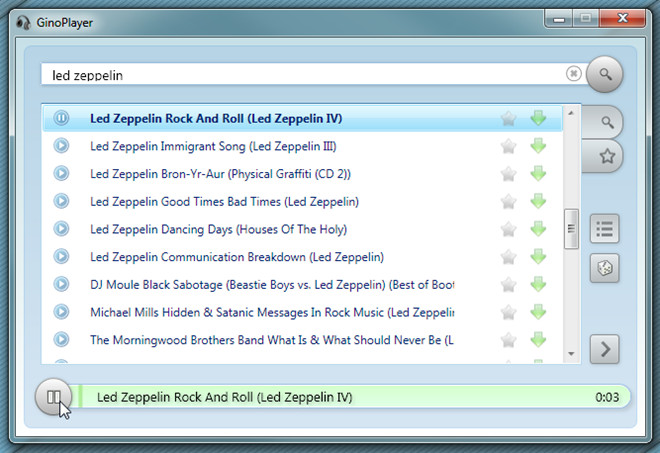 There are no playback and track navigation controls; just a play/pause button present underneath the search results window. When you want to download the selected song, click download button adjacent to favorites to download it to any local folder.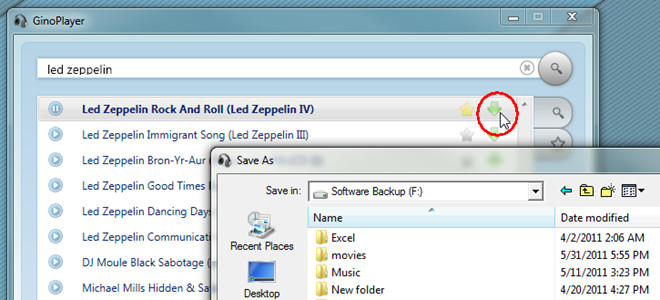 I would've found it useful, if I had a choice to export the specified artist playlist and download multiple songs in one go. Nevertheless, GinoPlayer is a great little audio streaming and downloading tool.