Gizmo Central: Utilities For Windows Power Users
Gizmo Central is a set of utilities that simplifies day to day computing, and adds some color to it. It contains a set of modules that allow a user to perform various tasks from the convenience of cool-looking toolbars, and customize them as per his/her liking. This tool is basically aimed at power users, and contains some essential features like image mounting to a virtual drive, file encryption, database management, script runner etc.
Tools like these are aimed at making day to day usage easier for novice users as well as experts, making work and leisure both more effective and efficient. We have reviewed quite a few candidates from the genre earlier, and when a tool comes in which has a catchy, flashy interface, things definitely stark looking even better. Gizmo Central consists primarily of five modules, namely Gizmo Drive, Gizmo Script, Gizmo Database, Gizmo Editor and Gizmo Hasher.
The main interface window is the Gizmo Manager, which allows manipulation of all the other modules and settings.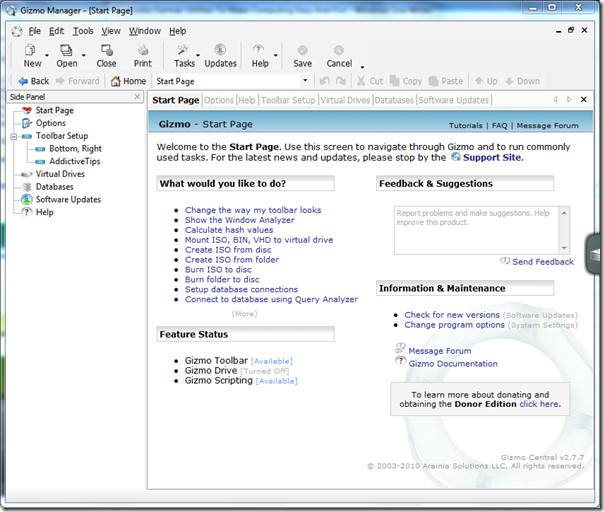 All the functions of the main five modules are controlled through this interface. The settings offered are extensive, but luckily contain a detailed documentation that explains everything. For a brief overview, here are the functions performed by all the modules.
-Gizmo Drive allows mounting of ISOs, BINs and other images, as well as encrypted hard drive images to a virtual drive
-Gizmo Script allows PC automation and execution of routine functions through scripts.
-Gizmo Database contains a Query Analyzer and stored procedure analyzer.
-Gizmo Editor is basically a colorizing text as well as hex/binary editor.
-Gizmo Hasher allows a user to calculate hash values for files, folders and drives.
When the software is installed, it places a system tray icon, that can be configured to add more options to it through the manager. By default it contains a button to open the management interface only. You can also add additional toolbars with as many buttons buttons as you like. You can also choose the style and coloring for your toolbar.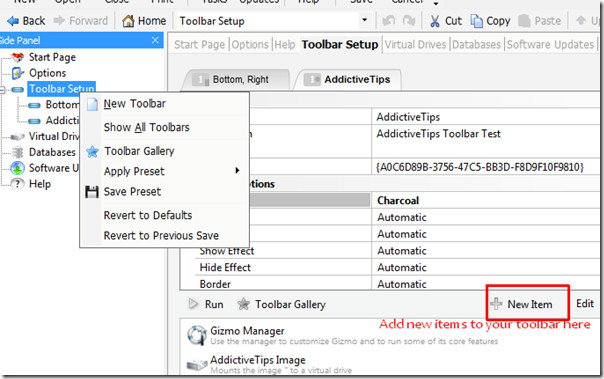 The toolbar can also be oriented as per the user's choice, for example, center bottom, left, right, system tray etc. Make sure to save every change in the management interface in order for it to take effect.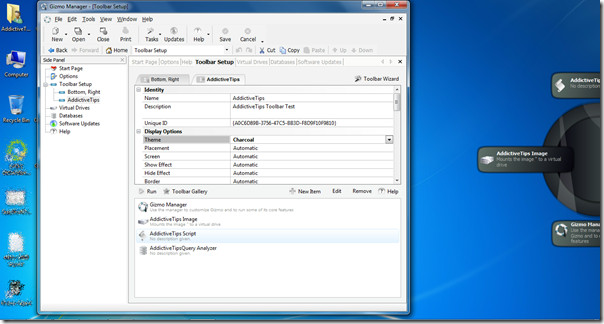 Gizmo central is an easy-to-install, easy-to-use utility full of useful features that would make your daily computing fun and simple. It requires a reboot after installation to become fully functional. The application works with Windows 7, Server 2008, Vista, 2003, XP and 2000.