Google Calendar Events Desktop Notifier
Want a good desktop Google Calendar events reminder app? GMinder is the best so far. Being stable, it is a nifty little application which allow users to Add, Open, or Dismiss a new event without having to visit the website. The event notification alerts are fully customizable and so are the agenda.
In case you find the application too complicated or cluttered(which it isn't), then alternatively GCal Notifier can help. This app has no user interface and will show a standard event alert box for all event notifications, as shown in the screenshot below.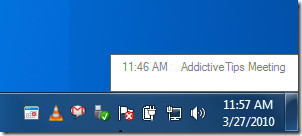 It is a portable app and requires .NET Framework 2.0 (which is already installed if you are using Windows Vista or Windows 7).