Nocs: Create, Edit, & Upload Documents To Google Docs
A simple looking Notepad called Nocs is a freeware software which facilitates Google Docs users to write/edit and retrieve documents from Google Docs. Nocs uses Google Document API (App programming interface) for synchronizing documents with Google Docs.
I must say that it is a real deal for those who have been using Google Docs by signing in every time to write new document or edit exiting one. It is now easier to work with the documents offline while on the go.
Nocs contains a very convenient & simple interface with all the functionalities of the Notepad. And most importantly it comes up with all the features of creating/editing documents and an ability to sync with Google docs in a real-time. On opening Nocs it prompts you to a Google Docs Account Login. Upon login the documents will be available from within the app.
The content of the file residing at the Google docs can be retrieved, modified, and saved back in the Google Docs.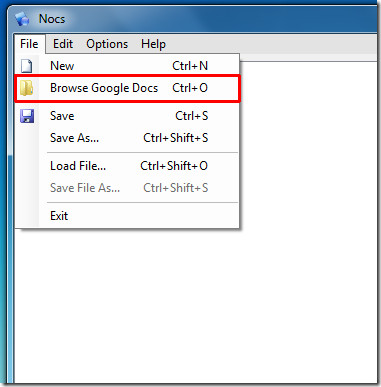 Go to File menu and hit New to start writing a document right from the scratch and upload it to Google Docs. To edit a document, first hit 'Browse Google Docs' and then select the document that you want to edit offline.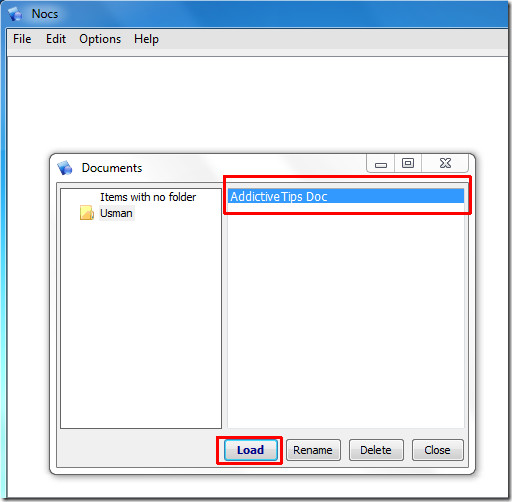 To download the document for editing, hit Load.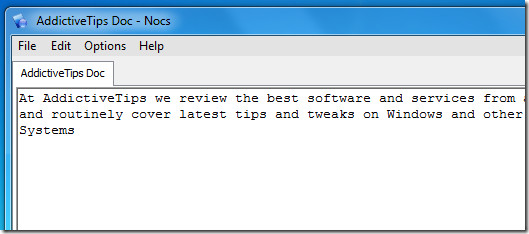 Content of the document can be edited/modified and uploaded back to Google Docs. Undoubtedly Nocs provides the easiest way to sync your documents with Google Docs. But it is still in beta testing so you may encounter some bugs.
Other Features Nocs Provides:
Delete or rename folders and drag & drop documents to/from folders
Provides Proxy Supports
Google and proxy passwords encrypted when saved in isolated storage
Added context menu for the text editor area
Tabbed Interface
Open Multiple Documents