Green Cloud Is A Virtual Printer Driver To Save Paper & Ink Costs
GreenCloud Printer is a virtual printer driver that helps you save money on your daily print jobs. With the help of this application, you can save up to 33% of paper, ink and toner costs, without reducing paper quality (as claimed by the developer). It completely integrates with installed applications as a virtual printer, and allows reviewing printing jobs, removing unwanted pages, grouping pages per sheet of paper and printing documents as PDF. Furthermore, you can directly send your documents to GoogleDocs, Dropbox, Evernote or Minus.
To begin, select Green Cloud from the printing options of an application, and click Print.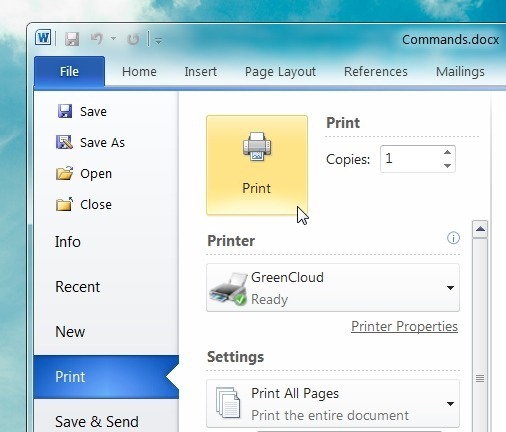 Each application may offer a unique user interface, as every printer driver works differently and provides advanced options for most users. By using GreenCloud Printer as your default (virtual) printer, you can avoid wasting paper, because you can remove blank pages or a page with only a few lines of text (e.g. 2 lines, which may be headers or footers of webpages). When you click Print, a new window opens that provides the option to select a printer, remove unwanted pages, save the document as PDF, or to send it to email, Dropbox, Google Docs or Minus. To send it to the aforementioned web services, you'll have to first set up their configuration parameters via Configure option. You can switch preview layout from Options (One page per sheet, Two pages per sheet or Four p[ages per sheet). Further options enable you to select the number of copies, toggling Grayscale and Print two sided options, as well as select Ink saving preference (small, medium or high).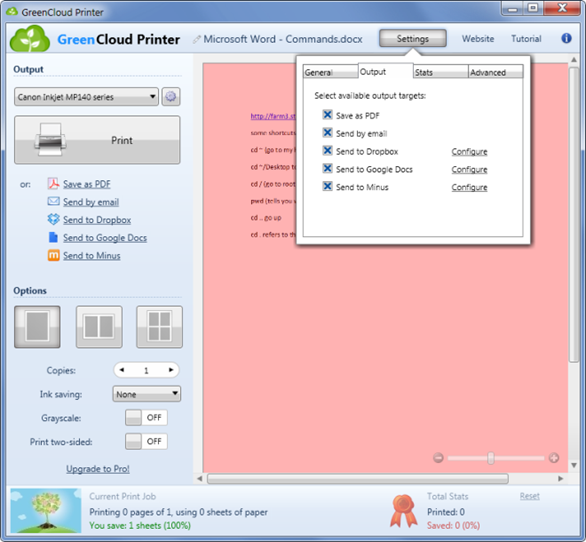 to select relevant option, go to the General section (in Settings), and select Remove pages with little content option. You can also get the cost that will be incurred for each print from the Stats tab. The Advanced tab provides an additional option to use Direct 2D display (requires application restart).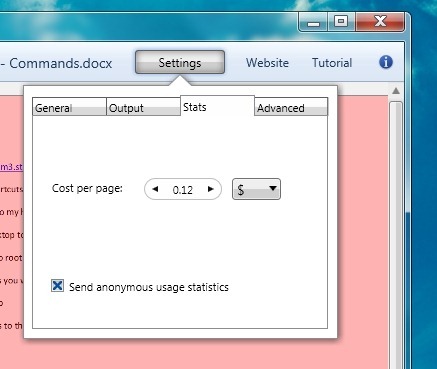 GreenCloud Printer seems to be a combination of PDF writers like CutePDF Writer and paper saving virtual printers like iPrint. Hence, it provides the benefit of saving paper, creating PDF documents from almost any kind of application, and instantly sending a document to Dropbox, Minus, Evernote or an email address. For more information regarding the usage of GrenCloud Printer, check out the developer's video below.
GreenCloud Printer works on Windows XP, Windows Vista and Windows 7, and supports both 32-bit and 64-bit architectures.