GrieeX: Movie Organizer With The Option To Download Subtitles, Metadata & Posters
The last movie explorer that I stumbled across was Movie Central (read review), which, despite impressing me with its elegant Full Screen UI design, didn't support playing movies from within the interface. Luckily, today I discovered another movie catalog program known as GrieeX, which allows setting a default media player to quickly play movies from within the application. This feature-rich application has a lot to offer, such as ability to fetch metadata information, download movie posters and subtitles etc., from numerous online sources, including IMDB, Amazon, Animeinfo and Opensubtitiles. Apart from reading statistics about your movie database, you can view the updated list of IMDb's Top 250 from within the interface. More details after the jump.
Upon launch, it offers a simplified, yet eye-candy GUI (with selectable skins). The movies you add are shown in the main window with information like Archive Type, Seen (status), Original Name, Director, Writer, Year, Duration, Rating, Votes, Country, Subtitle, Genre, Language, IMDB Number, Duration and so on. Interestingly, there are two options to add movies; one, if you already have a movie file saved on your computer, and second, you can simply add a movie that hasn't released yet. In order to add a movie file to the database, click Add With File on the toolbar to open Movie Card window.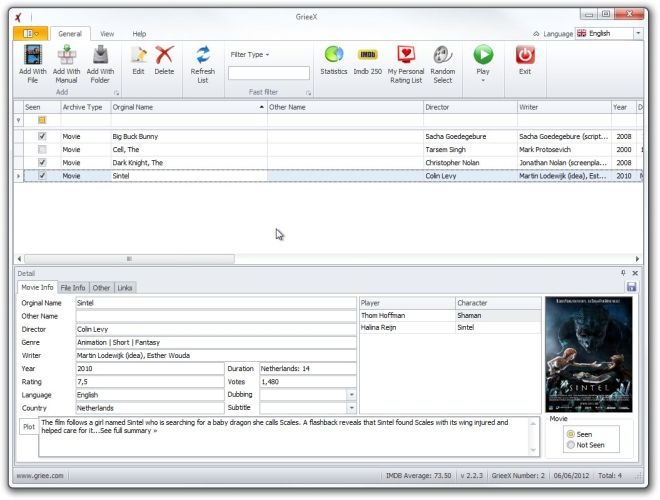 Here, you may either manually enter the metadata or select required source from Get Information From The Internet menu to download Movie (info), Poster and Subtitles. Once selected, it will automatically download the information in the movie card. You can also select Seen or Unseen at the bottom right. Finally, click Save to store the information.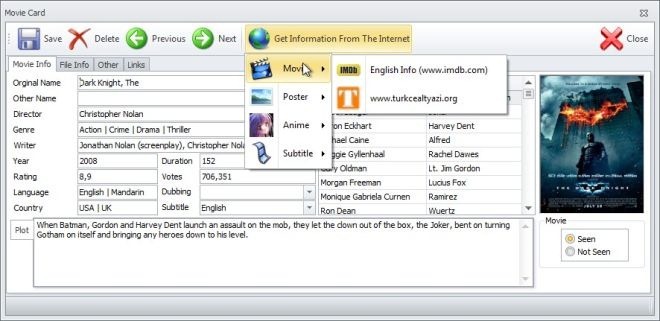 The popular IMDB Top 250 list is also accessible from the application's toolbar. You can click IMDb Top 250 button on the toolbar to download the latest version of the list. This may help you check whether a new movie has made its way to the top or not.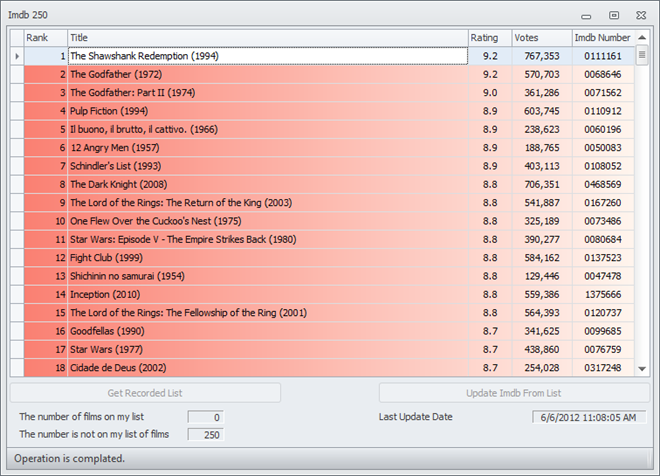 Click Statistics on the toolbar to view some generic as well as in-depth details regarding your movie database, including Director, Year, Genre, Release Type, Video Codec, Audio Codec, Subtitle, Dubbing and Release Group.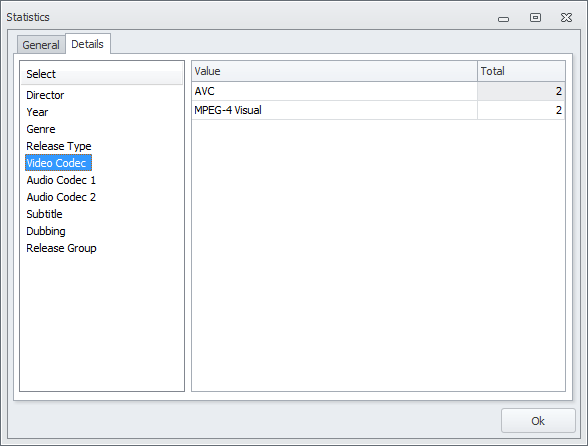 You can also select any movie and click Play on the toolbar to play the movie in the associated media player. If you haven't associated a media player, open Settings and select your favorite player from General window. Here, you can also tweak a few generic settings under General section as well as other options under Descriptions, Personal Columns, Default Values and Connection sections.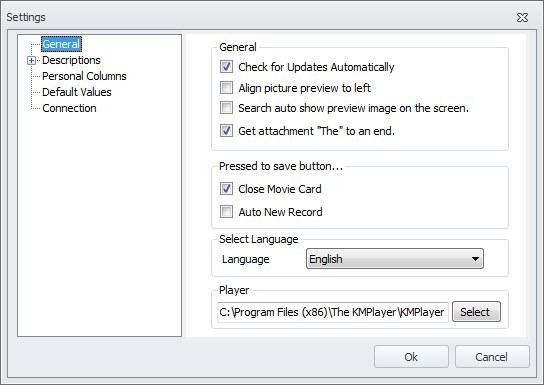 The program is available for free and works on Windows XP, Window Vista, Windows 7 and Windows 8. Both 32-bit and 64-bit OS editions are supported.