Griffith – Advanced Movie Collection Manager With Loan Management System
Last month, Najam covered EMDB a movie management software that saves all the related information of specified movies/dramas/sitcoms. The application seems great, has nice interface but with only one main data source – IMDb. Today we came across Griffith, a media collection manager which is written for avid movie fans to keep track of all the movies they've seen in the past. Furthermore, it supports a huge list of data sources for providing user with all sort of information pertaining to the movie, be it plot, review, stats, goofs, you can bring in any relevant data with a single click.
It also has an intrinsic mini loan management system as well, you can populate a list of people who loaned movies from you. Since it is developed for hardcore movie enthusiasts who have watched tons of movies/dramas etc., it offers an extensive search filters to quickly search for a movie by its name, ratings, category, etc.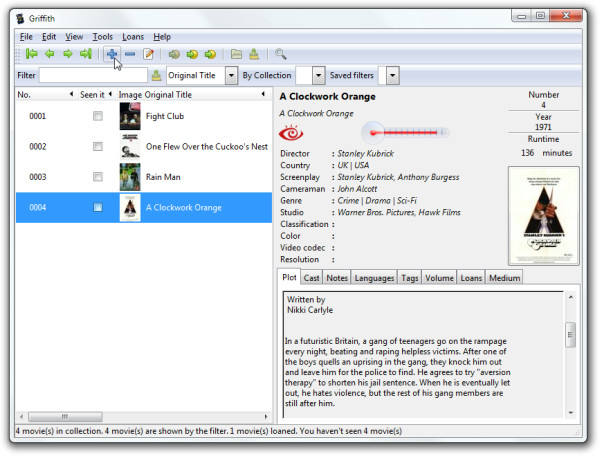 The main toolbar contains all the options to populate and search the list accordingly. For the first time usage, you will need to add movies, click the respective button for either adding information manually or fetching the details from supported data sources which are; IMDb, AllMovie, Amazon, CSFD, DVD Palace, FDb,HKMDB, KinoDe, Movie Meter, and lot more. It is also possible to get different kind of information from multiple sources, just disable Fill empty fields only option and switch between data sources to get the details.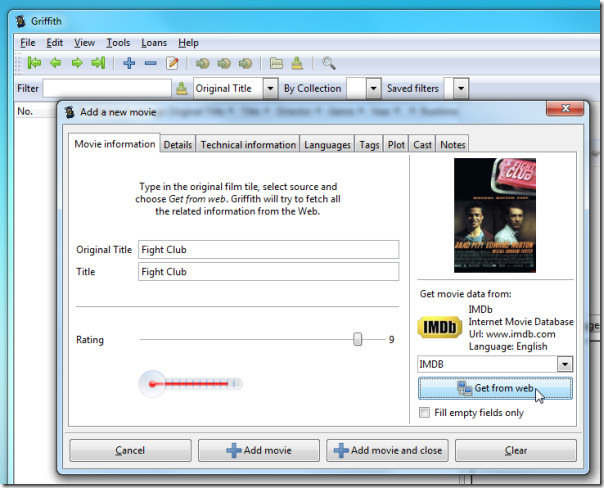 All the information is saved in respective fields present under different tabs – Details, Technical information, Language, Tags, Plot, Cast, and Notes. Right beneath the toolbar, you have filter lane to narrow down the search results.
The loan management helps you in managing all the movies you've lent to others. Under Loans menu, click People to create a list.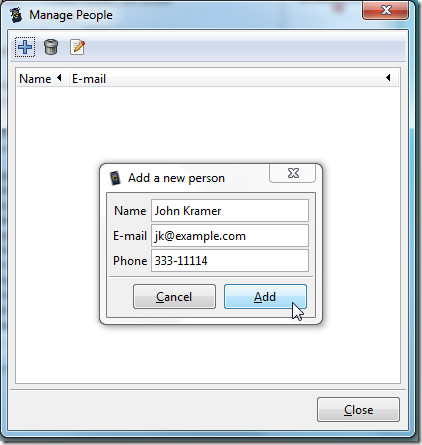 Down the line, if you need to loan out any movie, from right-click menu, you can bring up all the details of the person.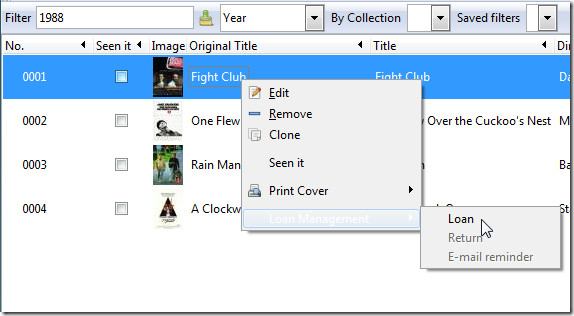 Except from some interface-specific issues, the application works great. It is a platform independent application, thus compatible with Mac OS X, Linux and Windows OS. Testing was done on Windows 7 x86 system.